By Ruhaifa Adil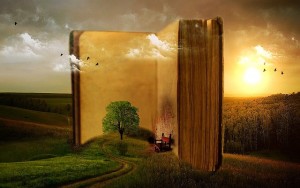 Bismillahir Rahmanir Raheem
Whether children go to school or are home-schooled, being able to study on one's own or to complete their assigned tasks in an organized manner are skills that will stand one in good stead throughout life.
There are several ways to improve children's homework and study skills. Being Muslims, it is important to teach our children Allah-centric ways as well as important organizational skills to help them in their tasks.
Following are some ways parents can teach their children to help them make their work easier, organized, and stress-free:
1. Begin and end with the name of Allah
When one says Bismillah before starting anything, it means: I start this action accompanied by the name of Allah or seeking help through the name of Allah, seeking blessing thereby. Allah is God, the beloved and worshipped, to Whom hearts turn in love, veneration and obedience (worship). He is ar-Rahman (the Most Gracious) Whose attribute is vast mercy, and ar-Raheem (the Most Merciful) Who causes that mercy to reach His creation.
(Sheikh Muhammed Salih Al-Munajjid)
Teach children to take the name of Allah before beginning their homework or study sessions. Allah will not only make their work easy, but also add blessings in the time that they have allocated to their studies.
2. Read the supplications for seeking knowledge
The Messenger of Allah (sa) said: "Ask Allah for beneficial knowledge and seek refuge with Allah from knowledge that is of no benefit." (Ibn Majah; reliable)
Several supplications were taught by the Prophet (sa) to seek beneficial knowledge. Teach these invocations to your children so that they seek Allah's help in their academic endeavours. This also trains the children to understand that they must first seek Allah's help whenever they seek anything in life.
3. Create an effective study space
It is of utmost importance that children are helped to create effective study spaces for themselves. Correct lighting and comfortable seating though important are superseded by the importance of having an area with little or no distraction.
Help children identify what distracts them, such as siblings, pleasure-reading material, the noise of the fan, and so on. Teach them to find a space where they are away from distractions or remove the distraction if possible from the place where they study.
4. Catalogue their strengths
Help children identify their strengths, and use them to their advantage when they are studying. For instance, if your child is good at art, teach him or her how to use mind maps to help understand and learn concepts. If your child is very good at remembering stories, help him or her to create stories about different mathematical formulas they may need to memorize.
5. Identify their weaknesses
Just as one needs to play to their strengths, it is also important for one to be aware of their weaknesses in order to combat them. For example, if your child knows he cannot sit for very long, help him create study schedules where he takes a break every 15 minutes.
6. Create personalized checklists
Help your children create personalized checklists to help them with mistakes they frequently make or to help them keep track of their work. For example, checklists may remind them to double-check their spellings or punctuation before handing in an assignment. Alternatively, checklists can be made for all the tasks that are due and can slowly be crossed out one by one.
7. Break large tasks into smaller ones
This is a very important step that needs to be taught to children. Teach children to break large assignments into smaller tasks and then divide them up into a schedule. This stops the work from becoming overwhelming and also leads to greater success. For example if the child has a science project to make, its tasks should be broken down into finding an idea, listing the materials needed, gathering the materials, and completing the project. Each task can be completed on separate days as well.
8. Prioritize assignments
Help your children prioritize their tasks. Teach them to use a calendar to keep track of what work needs to be finished by what date, and help them use the days in between to divide up the work effectively.  A great idea is to use the lunar calendar to break the monotony as well as making the child aware of the Islamic calender.
9. Fix study time
Fix a time of the day when homework or studies need to be done. Make sure these slots are empty and no other activity has been planned for that time. A great way to fix study times is to set it around Salah times. For example, fixing the study time between Asr and Maghrib or after Maghrib is a great idea since it not only organizes the routine, but also ensures that Salah isn't shoved to a secondary importance.
10. Incorporate Sunnah foods to improve learning
Incorporate foods suggested by the Prophet (sa) to aid them in memorization and learning. The better the diet, the better the kids will be able to concentrate and learn, Insha'Allah
Ruhaifa Adil is a mother of four, a practising Muslimah, an avid reader, and a passionate writer. She works primarily as a trainer for mothers and teachers, advocating a multi sensorial, learner-centred approach, which she has learnt through her work as a remedial specialist for children with dyslexia. She is also an author of English textbooks, based on the teachings of the Quran (currently under editing), and creative director of a Tafseer app for kids (soon to be launched Insha'Allah).
© IIPH 2015
Related posts