By Tabassum Mosleh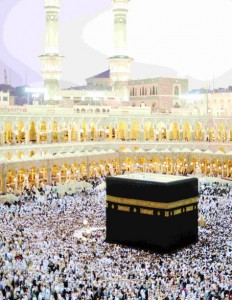 Bismillahir Rahmanir Raheem
How blessed are those who are performing Hajj this year! May Allah make their Hajj successful. Ameen
To those who are not performing Hajj: Yes, we can't be at the place of Hajj, but don't forget that we are going to experience the season of Hajj, Allah willing, as much as the Hajjis do!
Here are a few things we can do in order to have a near-Hajj experience:
Make the Most of the First Ten Days of Dhul-Hijjah
These ten days have numerous virtues and the one who avails them gets more reward than the one who fights in the cause of Allah. (Bukhari)
Here are a few special things you can do on these awesome days:
Fast on the first nine days.
Say: the tahleel (La ilaha illa Allah), takbeer (Allahu Akbar), and tahmeed (Alhamdulillah).
Immerse yourself completely in worship on the most special day: the Day of Arafah (9th Dhul-Hijjah).
Avoid cutting hair and clipping nails for the first ten days if you are offering a sacrifice.
The Messenger of Allah (sa) was asked about fasting on the day of Arafah. He said: "It expiates the sins of the preceding year and the current year." (Muslim)
He also said: "There is no other day on which Allah sets free more slaves from hell than He does on the Day of Arafah." (Muslim)
"The best supplication is the one on the day of Arafah, and the best thing that I or the prophets before me have said is: There is no god but Allah, alone and without any partner." (Malik; mursal)
So get your prayer books out, make lists of all the stuff you want, and get going! Also don't forget to listen to the special Hajj sermon that the Imam delivers in the mosque at Arafah.
Inculcate the Hajj spirit
Just like a Hajji, study about Hajj; find out its rulings and its blessings.
Watch people performing Hajj this year – whether through live or recorded Hajj transmissions. You can see people circumambulating the House of Allah, the innumerable tents spread out in Mina, and the Hajjis standing in the plain of Arafah and supplicating.
As you watch people perform the wuqoof at Arafah, think about the Day of Judgement and how we'll all stand there – on the plains of Arafah – before Allah.
Stay away from sins, especially anger and arguments.
Build on the qualities of the Hajji
Taqwa (consciousness of Allah): Allah the Almighty told the Hajjis that the best provision they can take with them is taqwa. (2:197)
Tawheed: That's the essence of the talbiyah in which we declare the Oneness of Allah.
Dependence on Allah.
Closely following the Sunnah.
Complete submission to Allah.
Contentment in difficulty.
On the Day of Eid
Attend the Eid prayer and sermon.
Observe the Sunnah practices of Eid.
Recite the takbeer as much as you can.
Sacrifice an animal.
Earn the reward of a Hajj every day!
The Prophet (sa) said: "If anyone goes out from his house after performing ablution to perform the prescribed prayer in congregation (in the mosque), his reward will be like that of the one who goes for Hajj after wearing ihram (robe worn by the hajj pilgrims…." (Abu Dawood; reliable) (Women can pray at home and get similar rewards, Allah willing.)
Tabassum M. is an aspiring writer and student of Classical Arabic and Islamic Studies at al-Salam Institute. She has also done BA in Islamic studies from IOU and BEng in Mechanical Engineering, and studies psychology by herself. She's interested in a wide range of subjects and writes about them at blog.iiph.com and understandquran.com/blog. Contact: tabassum_mosleh@hotmail.com
© IIPH 2015
Related posts