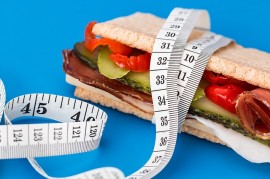 بسم الله الرحمن الرحيم
By Unaiza Ahsan
In part 1 of this article, we discussed why one should eat moderately.
Next, it should be kept in mind that for a person who is used to eating large portions or eating till one can't eat anymore, it is not easy to drastically cut down food intake on the get go. It takes time and patience.
The following tips and tricks will Insha'Allah work if you make a sincere intention to change your eating habits for the sake of following the Sunnah, pleasing Allah (st), being healthy, and fulfilling the rights on your body.
Use smaller plates: This may sound a little surprising but it has been effective for me personally. Dinner plates are usually pretty large. If one uses smaller plates, lesser food occupies the plate (and the plate still looks full). If you use a large plate, you will have to add a lot of food in order to get the same "plate full" look. Go for smaller plates and you will notice a difference at once.
Eat slowly: We are living in an age of constant requirement for entertainment. Even while eating, people are normally watching TV, watching a video on laptops, reading news on their phones, and the like. This makes you forget everything about how much food has been eaten, and in how much time. Take your time to chew your food slowly, and try not to be distracted while eating. This is called mindful eating. It takes approximately 20 minutes for your stomach to send the "I'm full" signal to your brain. If you eat very fast then the "I'm full" signal will be sent when you have eaten beyond the ideal food intake threshold.
Stop when you feel 80% full: This is a major challenge, especially if the food is really well-cooked and delicious. You just don't want to stop eating. It is imperative to remember our pious predecessors went hungry more than they were full. A man said to Ibn Umar: Shouldn't I bring you some jawarish? Ibn Umar said: What is that? He said: Something which aids in digesting your food after you eat. Ibn Umar said: I have not eaten my fill for four months. This was not because I was not able to do so, but I was with a group of people who were hungry more than they were full [1].
Have a clear strategy in mind for all-you-can-eat buffets: This can be even more challenging than having delicious food in front of you at home because in all-you-can-eat buffets, there are many different kinds of delicious foods, and one is encouraged to get their money's worth. This  simply translates to "eating as fast as possible in as little time as possible". It is useful to adopt a few clever strategies which will ensure you eat only 80% of your fill. Here you will not have a choice of changing the plate size, so head for the salad bar immediately and heap your plate with greens and veggies. Then make your way to the main courses and add small amounts of whatever food you want. You will notice that you will not be able to add much. If you adopt the 'eat slowly' principle here, you're good. Avoid multiple trips to add more stuff and try bite-sized desserts, instead of the full size. Again, the best practice is to not put yourself in a situation where overeating is highly encouraged, but sometimes it is hard to say no to invitations and these strategies will Insha'Allah be useful if you sincerely adopt them.
Be principled even when eating out: The ease of supersizing a meal by adding a small amount of money to your bill is actually costly in terms of your health. It is more intelligent to save calories than money, don't you think? If you must eat out, it is important to remember the following rules.
Choose water over soda, but if you must have soda, do not go for the 'unlimited refill' option. Just take one soda, and use it for the whole meal.
Have fruits for dessert. A hot fudge sundae topped with whipped cream, chocolate chips, and pecans might be extremely tempting but only adds unhealthy calories to your body, and leaves you feeling overfull.
Ask the waiter to pack half your meal for take away. This way, you eat half as much! Add salad on the side if you still feel hungry.
Avoid the pre-meal basket of chips or bread. They just add senseless calories to your food intake not to mention leave you feeling a little stuffed even before you start your meal.
If you adhere to the above-mentioned guidelines with a sincere intention of following the Sunnah and pleasing Allah the Almighty, Insha'Allah you will feel energetic for tahajjud (voluntary night prayers) even after eating out the night before, have stamina for the afternoon halaqah (study circle), and feel good about yourself because of mindful eating. It is, after all, not very difficult to lose weight if one is following the above principles.
Unaiza Ahsan is a graduate student at Georgia Tech
[1] http://www.java-man.com/pages/JamiAlUloom/hadith_47.html
© IIPH 2015
Related posts