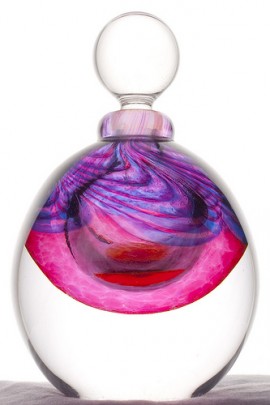 بسم الله الرحمن الرحيم
By Zahra Anjum
Sarah had come to visit her cousin and best friend, Maryam, after a long time. Gone were the days when they frolicked together. Now both were mothers to restless children and busy in their lives. Sarah couldn't help but notice the tone that her friend used with the children. Maryam was extremely polite, yet firm. She did not become reactive immediately or threaten to hit them like Sarah usually did. Her beautiful manners worked on the kids. On the other hand, Sarah could remember all the words that she used to yell to her children, which they repeated in front of others.
Sarah vowed to adopt the same character… and took some perfume back with her.
**** **** ****
In the beginning, he felt uneasy like a fish out of water. Coming from a religious background, Bilal had always kept himself away from mixed gender gatherings. Today, however, he was dragged forcefully by a friend. The young man spent the whole hour standing in a corner, watching obscenity from the sidelines.
As he was driving back home, Bilal suddenly realized that he was humming the same lewd song that he had hated at the party. He rummaged through his heart and noticed something; the graph of dislike for such a gathering had fallen to some extent.
Yes, that was the smoke.
**** **** ****
The talk was all about knowledge, scholars, righteous people of the past, and cleansing the mind and soul. Shelves upon shelves in this distant aunt's home were jam-packed with books. In the three days that she lived with her, Amna did not hear the woman backbiting or gossiping about relatives or neighbours, or talking about shopping, clothes, and the latest gizmos. Amna was amazed for these were usually the only topics discussed around her.
As she bid her farewell, Amna was gifted a book that she had admired; a whiff of beauty went home with her.
**** **** ****
These are examples of common instances in daily life that reflect how our surroundings have an impact on us. Every meeting and every companion leaves a deep mark on our personality. In the company of the righteous, we naturally start adopting values loved by our Benefactor. On the other hand, if we spend time with those who are unconcerned and careless about Allah and the real purpose of life, we start embracing the same colours.
Prophet Muhammad (sa) explained this in a beautiful parable. He said: "The example of a good pious companion and an evil one is that of a person carrying musk (perfume) and another blowing a pair of bellows. The one who is carrying musk will give you some perfume as a present, or you will buy some from him, or you will get a good smell from him. But the one who is blowing a pair of bellows will either burn your clothes or you will get a bad smell from him." (Sahih Bukhari)
If we wish to stay on the straight path, leading to the pleasure of the Most Loving, it is very important to stay in the company of the pious. They inspire us, strengthen us, and prevent us from falling prey to worldly temptations. They are the source of knowledge, wisdom, and noble manners, and are in the sight of Allah a people whose companions are always fortunate!
We may find those unaware and unconcerned about the purpose of living as lively and enjoyable. However, in the long run they may possibly become a reason for remorse. On the Day of Judgement a person will regret having a friend that led him away from His Lord. The Qur'an relates:
 "Oh, woe to me! I wish I had not taken that one as a friend. He led me away from the remembrance after it had come to me…" (Surah Furqan 25: 28-29)
Where to find the right company?
First, make an effort to know what 'right' is, and soon you'll find the right company! Ali (ra) said: "Identify the truth, and you'll eventually recognize the people of truth."(Tafseer Qurtubi)
These fireflies scattered in the night may be less in number, but they are not entirely nonexistent. If you sincerely seek guidance and righteous company, surely Allah will not deprive you of it. Make sincere dua (supplication) to Him, and search for them in the gatherings of Qur'an, in the gatherings of worship, in mosques, and in Islamic centres; albeit they are not restricted to these places but can be found there in abundance.
Have a look at your friends and comrades – are they carriers of musk? Are you a carrier of musk for them? Or are your interactions just an exchange of malodorous fumes?
Let us strive to be bearers of perfume and surround us with the most exclusive of scents; the people of dhikr (Allah's remembrance), knowledge and faith.
Zahra Anjum is a freelance writer, editor and translator based in Islamabad, Pakistan.
© IIPH 2014
Photo credit: misteraitch / Foter / CC BY
Related posts