By Ruhaifa Adil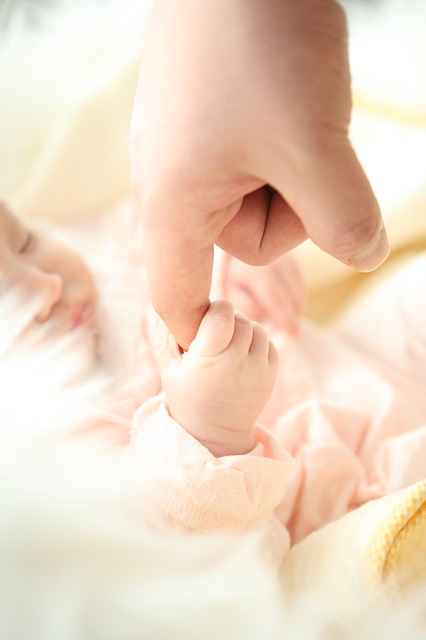 Bismillahir Rahmanir Raheem
Children are born on the fitrah – the innate understanding that they have been created by One God. The Prophet (sa) said: "Every baby is born upon Fitrah. It is his parents who make him a Jew or a Christian or a polytheist." (Muslim)
Allah has created us to worship Him. The greatest gift that any parent can give their child is to start them off on the path of worship from the day they are born – the stage of life when humans are their purest, and unadulterated with incorrect views about Allah and His deen (religion).
Here are some ideas to help you connect your infants and toddlers to the deen from the very beginning so that they are able to combat any fitnah or trial they face later on with the strength of their emaan (faith):
Make your child familiar with the Quranic verses. Play the Quran whenever your baby is awake and responsive. If you are breastfeeding, turn on the recitation so that he or she can associate the feelings of comfort and security felt during nursing with the sound of the Quran. You can also turn on the Quran while your toddler is busy playing. Idle time spent travelling in the car or the time before your baby dozes off at night is an ideal opportunity to let the Quran play. You will be surprised to see your little one soon reciting bits and parts of the Quranic verses. We also know that the Quran effects the heart directly, and this exposure to Allah's Word can be nothing but beneficial.
Talk to your baby about Allah. Tell him or her that Allah is one. Raise your index finger to emphasize one. Tell your child that Allah is the best, a child-friendly translation of the concept of Allahu Akbar. Even if your child doesn't understand the implications of these statements yet, the seed is best planted when the soil is fertile.
Make their speech Allah-centric
Teach your children to say Allahu Akbar (Allah is the Greatest) and Subhan'Allah (Glory be to Allah) instead of 'Wow' and Jazak Allah Khayran (May Allah reward you with good) instead of 'thank you'. These are great ways to make their speech and their thoughts Allah-centric – the understanding that eventually, everything is from Allah and only He deserves its praise and recognition.
Tell them that Allah loves them
Reiterate, emphasize, and focus on the sentence "Allah loves you". Whenever your baby does something praiseworthy, let him know that Allah is pleased with him. Make your baby thank Allah every time she gets a new gift or toy. Let her know that Allah loves her immensely which is why He has given her so many 'gifts' or blessings. The stronger the bond of love you create at this stage, the easier it will be for your children to trust Allah as they face hardships or trials later on. Remember to not say anything about Allah's anger or punishment at this stage. Children thrive on the concept of love; fear of Allah is a concept that needs to be introduced when children understand consequences.
Tell them that the loves them
"None of you will have faith till he loves me more than his father, his children, and all humankind." (Bukhari) Though it will be hard to ingrain a deep love for the Prophet (sa) at this stage, this is the time to lay the foundation of the concept. Whenever your children do something good, such as sharing their toys or food or listening to you, praise them by saying, "You are just like Prophet Muhammad (sa)." You can further this bond with the Prophet (sa) by saying "The Prophet (sa) never did this" when they get up to some mischief.
Incorporate the daily Sunnahs
"Say [O Muhammad]: If you should love Allah, then follow me, [so] Allah will love you …" (Aal Imran: 31) It's never too early to incorporate the Sunnah of Prophet Muhammad (sa) in your child's life. Recite the dua (supplication) for drinking milk before starting to nurse or giving your baby the bottle. Say Bismillah (in the name of Allah) before any mealtime. End every meal with the dua taught to us by the Prophet (sa). Other daily Sunnahs include the duas to be recited when putting on or removing clothes, when leaving or entering the house or the bathroom, when travelling in the car, and so on. Teach your child to wear his right shoe first and to say Alhamdulillah (all praise is for Allah) when he sneezes. These Sunnahs will become habits so well-ingrained Insha'Allah that they will be a constant and conscious reminder to your child of his deen.
Make Jannah real for your children by talking about all the fun things they will get to do there. Whether it is toys or chocolates, paint an image of Jannah as a place where they would love to go.
Help identify Islamic rituals
Show your children the Kaaba, the Prophet's Mosque, the Black Stone, people dressed in Ihram, and so on. Any objects or rituals that are connected to the deen and are easily identifiable should be introduced at this age. Involve your children when you are praying and when you are making ablution. Let them have their own small prayer mat and allow them to get familiar with a copy of the Quran as well.
Keep story-telling simple
In the early formative years, feature the story time around various prophets and stories from the Quran but keep them simple. There is no need to emphasize the morals of these stories at this age. Right now, emphasize on imparting a basic understanding of the story and new vocabulary. Help the children associate certain main objects to the prophets such as a boat and animals with Prophet Nooh (as) or the whale with Prophet Yunus (as). As the children grow older, you will find it easier to help them internalize the lessons in these stories.
Remember however that being a role model for them will be the biggest influence in their lives to help them lead Allah-centric lives than any other thing you do.
May Allah help you nurture emaan in your children and help you connect them to the deen of Allah. Ameen.
Ruhaifa Adil is a mother of four, a practising Muslimah, an avid reader, and a passionate writer. She works primarily as a trainer for mothers and teachers, advocating a multi sensorial, learner-centred approach, which she has learnt through her work as a remedial specialist for children with dyslexia. She is also an author of English textbooks, based on the teachings of the Qur'an (currently under editing), and creative director of a Tafseer app for kids (soon to be launched Insha'Allah).
© IIPH 2015
Related posts