By J. Samia Mair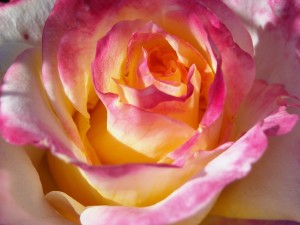 Bismillahir Rahmanir Raheem
When I first converted and started to learn about the Prophet's (saas) beloved Companions, Umar ibn al-Khattab (ra) scared me a little. I think it was this hadith about his sternness and the Shaytan (Satan) fearing him that provoked those feelings:
Umar ibn al-Khattab asked the permission of Allah's Messenger (saas) to see him while some Quraishi women were sitting with him, talking to him, and asking him for more expenses, raising their voices above the voice of Allah's Messenger (saas). When Umar asked for permission to enter, the women quickly put on their veils. Allah's Messenger (saas) allowed him to enter, and Umar came in while Allah's Messenger (saas) was smiling, Umar said: "O Allah's Messenger! May Allah always keep you smiling." The Prophet (saas) said: "These women who have been here, roused my wonder, for as soon as they heard your voice, they quickly put on their veils."`Umar said: "O Allah's Messenger (saas)! You have more right to be feared by them than I." Then Umar addressed the women saying: "O enemies of yourselves! You fear me more than you do Allah's Messenger (saas)?" They said: "Yes, for you are harsher and sterner than Allah's Messenger (saas)." Then Allah's Messenger (saas) said: "O Ibn Al-Khattab! By Him in Whose Hands my life is! Whenever Satan finds you going on a way, he takes a way other than yours." (Sahih al-Bukhari 3683, Book 62, Hadith 33)
Indeed, Umar (ra) was known as the al-Farooq – the one who distinguishes from right from wrong. He was reportedly bald, thick-bearded, and tall—a towering, powerful figure. Throughout the Seerah there are stories that make you understand why even the Shaytan might have feared him.
For example, he (ra) was not intending to convert the day he converted, but heading to kill our beloved Prophet (saas). He was sidetracked when he discovered that his sister and her husband had converted. He caught them reading Surah Ta-Ha, and he attacked his brother-in-law and hit his sister so severely that her face bled. He ended up listening to the Surah, converted and then made his conversion public.
He also did not hide his emigration to Madinah like so many others. In fact, he announced that he was leaving publicly in the Ka'bah for all to hear, drawing his sword and threatening those who might want to stop him: "Whoever wants his mother to be bereaved of him, let him follow me behind that mountain."
Before the conquest of Makkah, a trusted Companion had secretly hired a woman to deliver a message to Makkah warning of an imminent attack. Through Divine inspiration, Prophet Muhammad (saas) learned of this letter and had it intercepted. The trusted Companion told Prophet Muhammad (saas) that he had only wanted to protect his family who was still in Makkah. Umar (ra) wanted to cut off this other Companion's head, stating he was a hypocrite. The Prophet (ra) forgave him though, mentioning that this other Companion had participated in the Battle of Badr and that Allah (swt) is likely to look favorably on those who did so. These are just a few examples of how he could be fearless and stern, but these stories are repeated often.
There is another side to Umar (ra) – a softer side that showed how seriously he took his responsibility as Caliph. He often investigated how the people were doing. For example, Talhah (ra) once saw Umar (ra), when he was Caliph, entering houses at night. The next morning Talhah (ra) entered one of the houses and found an elderly blind and disabled woman. When asked about the man who had entered her house the night before, she responded: "He used to frequent my house, caring for my affairs and removing harm from me."
Another time, he heard a child weeping and discovered that the mother had weaned the child early because of his decree that gave an allowance to weaned children. Umar wept during prayers over the fact that his decree might have caused children to suffer or die. He then changed his decree giving an allowance to all newborns as well.
Another time, while Umar (ra) was inspecting the affairs of the people, he heard children weeping out of hunger. He learned that the mother was trying to comfort them by putting water on the stove until they fell asleep, telling them that the pot was full of butter, flour, and dates. Again, Umar wept and then filled a sack with flour, butter, dates, clothes, and money. He carried the sack to the house, cooked the food, and served the children himself, not leaving until he knew that they had been fed and were happily playing.
He once said: "By Him Who sent Muhammad (saas) with truth, if a camel was stolen on the Euphrates, I fear lest Allah (swt) calls the family of al-Khattab (meaning himself) to account because of it."
Umar (ra) continued to be al-Farooq throughout his life, one who implemented justice, but he was filled with compassion as well. His particular make-up was ideal for the times when he was Caliph, subhan'Allah, as Islam was spreading far beyond the borders of the Arabian Peninsula and peoples with very different backgrounds were entering Islam. Islam needed Umar's qualities to negotiate these new circumstances.
May Allah (swt) grant Umar (ra) the highest level of Paradise in the company of his beloved Prophet (saas) and in Allah's presence.
The incidents in this article are quoted from The Precious Pearls: The Description of the Ten Companions Who were Given the Glad Tidings of Paradise published by Darussalaam.
Samia Mair is the author of five children's books, the most recent Zak and His Good Intentions (2014) and The Great Race to Sycamore Street (2013).  She is a Staff Writer for SISTERS Magazine and Discover, The magazine for curious Muslim kids and has published in magazines, books, anthologies, online magazines, scientific journals, and elsewhere. She currently is working on a sequel to both recent books and on a historical novel.
© IIPH 2015
Related posts