By Tabassum M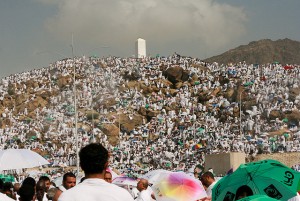 Bismillahir Rahmanir Raheem
Hajj – the culmination of two decades of prophethood of Muhammad (sa).
Hajj – the ultimate act of submission that combines the elements of all other kinds of worship: declaring the oneness of Allah ("Here I am! You don't have any partner. Here I am!"), sincerity, physical struggle, and spending wealth.
Hajj – a journey to the House built by Prophet Ibrahim (as) on barren land; then he gave the call which draws two million Muslims from all corners of the world every year.
How I wish I could be amongst those who are heading towards Allah's House on earth, saying: "Labbayk! Here I am, O Allah!"
The incredible honour which the position of a Haaji entails is beyond words. Allah, the Lord of the heavens and the earth, has invited them to His House, to be His special guest. (an-Nasa'i; sound) You are going to undergo a complete transformation and will be reborn, sinless and fresh.
But to achieve any honour, we have to earn it first. We'll never be able to really deserve this honour. What we can do is try our best to show Allah that we really want it. Hajj is still two months away, but our journey has already started – the wheels have been put to motion. But have we started yet? Let's make a firm commitment right now to show Allah that we really, really want to go.
Here are a few pointers to help put our wheels in motion.
Get all your affairs in order
To get the most out of Hajj, cut yourselves completely off from everyday world. Prepare to shut down all social media, bidding farewell to friends and relatives. Whether you're students, executives, or farm labourers, finish as much work as possible beforehand so that your stay at Makkah can be work-free. Repair broken relationships, and let go of old grudges. And, most importantly, whether you have a million dollar bank account or own just a box of coins – make a will.
Acquire knowledge
Learn as much about the Hajj as possible from courses, books, websites, and people who have already performed Hajj. Study the verses and hadiths on Hajj. Learn the virtues, jurisprudence, and etiquettes of Hajj. Here is an excellent book to start with: Hajj and Umrah According to the Qur'an and Sunnah
Physical exercise
Hajj can be greatly enjoyable, but that doesn't mean it's not difficult. If you want to ensure stamina in the days of Hajj, start exercising from tomorrow. Do any kind of exercise you can: cycling, swimming, weight lifting, and most importantly, walking. Although you'll always have a ride, be prepared to walk from Arafah to Muzdalifah, about 4 to 10 km, depending on where your tent is located.
Check-ups
Get medical, psychological, and dental check-ups done. You don't want to end up with a toothache on the Day of Arafah.
Coaching
One of the most prevalent barriers to making an acceptable Hajj is anger. Allah says: "… and no disputing during Hajj." (2:197). Yet we'll be overwhelmed by a bad temper, both in ourselves and others. The Prophet (sa) compares Hajj with bellows removing impurity from iron. (an-Nasa'i; reliable) So expect being enraged and having your patience stretched to its limit – but don't let it break. Take some anger management courses, read books and blogs, and learn the Islamic ways to manage anger.
Shopping!
Clothes: Sisters need to select their clothing wisely to be comfortable during Hajj. Select light, thin clothes that are not see-through.
Gadgets: It is recommended to take an old-fashioned radio to listen to the Hajj sermon at Arafah. Taking a tablet or smartphone will enable you to read Quran at all times (without ablution), but pack its charger with it.
Hygiene: Buy and take some unperfumed beauty products.
The best provision
As mentioned earlier, Hajj isn't easy. You will be tried and tested – to prove that you're good iron and not debris. Allah says that the best provision to take to Hajj is Taqwa. (2:197) So let's start exercising our Taqwa from today.
Tabassum is a final year student of BA in Islamic Studies at Islamic Online University, and a Foundation student on Classical Arabic and Islamic Studies at al-Salam Institute. She also has a degree in Mechanical Engineering, and studies psychology by herself. She's interested in a wide range of subjects, and writes about them at understandquran.com/blog and other blogs. Contact: tabassum_mosleh@hotmail.com
© IIPH 2015
Related posts