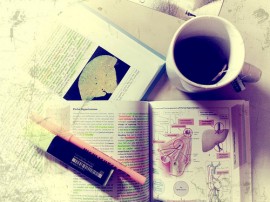 بسم الله الرحمن الرحيم
By Unaiza Ahsan
Ihsan refers to doing something in the best possible manner. Simply speaking, if you are faced with a situation–be it regarding worship, studies, career, family matters, dealing with society, etc.–and you react and behave towards these situations in the best manner (according to your capabilities), then congratulations! You have practiced ihsan.
Grad studies and the pressures associated with it can get pretty overwhelming for the average Muslim student. It is hard enough to stick to 'iman' let alone think of 'ihsan'. However, there are several small ways in which ihsan can be incorporated into the daily life of a grad student, and earn him/her extra blessings and goodness, which can be a source of contentment during difficult times in this world and the next.
Here are three scenarios relevant to grad school where you, as a Muslim student, can practice the concept of ihsan:
Running experiments and not getting satisfactory results
If you are a PhD student or a grad student who has signed up for research hours, this scenario won't be unfamiliar to you. Real world data and measurements are highly noisy. It can be a difficult problem to find meaningful patterns within the data. One may run hundreds of experiments, yet face potential frustration with no meaningful results. In those scenarios, imagine you run a final experiment and the results that come in are off by only a very small amount. You stare at the results, thinking. A simple change in two digits would earn you publication, not to mention praise from your advisor and colleagues. This is a classic scenario where it is important to remember the following hadith:
The Messenger of Allah (sa) was asked what ihsan was. He replied, "You fear Allah as if you are seeing Him, because if you cannot see Him, He is watching you." (Bukhari and Muslim)
So the way forward is clear. You do not alter any results and achieve 'iman' at least. What will constitute as ihsan here would be to explain these results to any potential grad student who wants to join your field of work, without caring about your reputation. If you explain your failed experiments, you will be saving him/her hours and hours of time. This is not necessary. It is only the excellent way to go about things.
Communication with colleagues
It happens too often that grad students feel discouraged or upset by some of the conversations they have with mentors or colleagues. It is not uncommon to find a grad student severely demotivated due to a depressing conversation with their supervisors. In this scenario, iman would be to forgive and forget, and to make dua to Allah (st) for solace. Ihsan here would be to pray for something good for the person who has hurt you the most. It is truly a difficult thing to do. But if you manage to do that, then remember:
"Good and evil are not equal. Respond in a way that is the best. Then, he between whom and you was enmity will become as if he was a close friend." (Qur'an 41:34)
Also, Allah (st) promises in Surah Al-Kahf:
"We do not let the reward of one who performs in the most excellent manner be lost." (Qur'an 18:30)
Now this may seem irrelevant, but it is fairly common to find bleary-eyed grad students shuffling from class to class and then getting busy with homework, exams, and student organizations. It is not easy for them (especially guys) to communicate with their parents very often. Many mothers call up their kids themselves to ask them how they are doing, and usually the students are just too busy.
It is of utmost importance to behave in an excellent manner towards parents. Allah (st) commands the believers in Surah al Luqman:
"We have exhorted man (human beings) about his parents. His mother bore him enduring difficulty after difficulty, nursing (suckling) him for two years, so that you thank Me and your parents." (Qur'an 31:14)
One of the ways in which grad students who are living away from their parents (often in different continents) can practice ihsan is to call them regularly. Ihsan in daily life translates into action in doing various things while firmly believing that Allah (swt) is right in front of us. Our actions are testimony to this belief. Therefore to practice ihsan in dealing with parents, it would be excellent if you could imagine Allah is Watching every step you take and is well pleased with your manners towards your parents. Note that keeping in touch with parents is an obligation but if you want to increase this level to ihsan, the following guidelines will be helpful.
Practically, you can take out 10-15 minutes of your time and call them up, just to say salam and to let them hear your voice. You can send them Eid gifts or wishes and let them know you remember them on special occasions. Further, you can keep them up to date with the happenings in your life. Believe me, things you consider mundane are very important to them. They love listening to "meaningless" stories. So if you manage to incorporate this habit, then again, congratulations. You have practiced ihsan with parents during seriously challenging times of your academic life. Your reward has been promised by Allah (st) when He mentions in Surah Ar-Rahman:
"Is the reward for excellence other than excellent." (Qur'an: 55:60)
Unaiza Ahsan is a graduate student at Georgia Tech
© IIPH 2015
Photo credit: Charlotte90T / Foter / CC BY-NC-ND
Related posts