By J. Samia Mair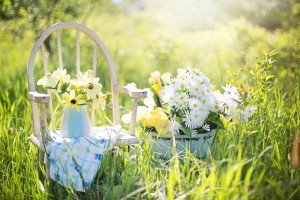 Bismillahir Rahmanir Raheem
"Everybody has three days," the Imam told us…
Yesterday, today, and tomorrow. Yesterday is gone, so you shouldn't grieve over it. It was qadr (destiny) and was always going to happen just the way it did. Tomorrow may not occur. Indeed, we aren't even promised the next moment, so there's no benefit in worrying about it. So all we have is today, more specifically, the present moment. And the question is: "What state are you in?" Are you doing the things that are required of you and avoiding the ones you must avoid? The present moment is where your attention should lie.
Our Imam is young, but on many occasions he has clarified for me some concept that I had been struggling with for a long time. "Provision chases you like death," is one of my favorites, and anytime I question whether giving up my job to stay at home and homeschool my girls was a wise financial decision, his statement echoes in my ears. But let's get back to our three days.
At a seminar, a speaker mentioned that he bumped into a certain scholar when he was traveling. As part of the usual niceties of such an encounter, he asked the scholar where his home was now. "Right here," the scholar answered. Now that's living in the moment! But what does living in the moment mean for most of us, the common folk (I used that term affectionately), those struggling with our nafs (egos), those trying to implement more and more of the Sunnah (following the example of our beloved Messenger, blessings and peace be upon him), and those of us trying to detach from the onslaught of the dunya (worldly matters)? If I were asked where my home is, I would most assuredly give a geographic response.
After this young Imam's khutbah (sermon), I started wondering if and when I live in the moment. Much of my internal conversation concerns the tasks ahead of me that day, week, month, and year. I worked in law and just as long hours in an academic institution, but homeschooling has proven to be even more demanding, time-consuming, emotionally taxing, etc. True, homeschooling has been a far more satisfying and rewarding way for me to spend my time for a variety of reasons, but it requires a lot of planning, commitment, and pep talks. And the truth is, I may be teaching Native American history but I am usually thinking that they still have physics and grammar to do and what time the girls need to leave for softball practice—clearly not living in the moment here.
So, when am I living in the moment, feeling that I am doing exactly what I was created to do? ("And I did not create the jinn and humankind except to worship me" (51:56)) When does my mind take a vacation from itself and allow me to focus on the present without the intrusion of the future and the nagging of the past? It happens the most, and the most naturally, when I am away from my routine—at a spiritual retreat or walking on the beach before sunrise, close to the surf, alone, except with the knowledge that Allaah (swt) is with me. In those times, I am truly living in the moment and there is no other place I would rather be and nothing else I would prefer to do.
But that is almost cheating in a way. I should be in the moment at those times–I'm doing what I was created to do, after all. The real challenge, the real goal and test, is to be in the moment exactly where you are at any moment, where Allaah (swt) has decreed you to be, and where qadr has placed you, and to appreciate that and to absorb whatever lessons and opportunities for spiritual growth that particular moment affords you.  That, for me, needs work, but I have found a few things that have helped, such as small reminders placed strategically in my life.
Depending what I am hoping to implement, I leave myself (and my family) little notes around the house. Thus, for example, if I find a hadith that is particularly relevant to our situation I might type it up, finish it with a nice computer border, and tape it to the kitchen cupboard that houses the crackers and other snacks—a place unfortunately visited too often. I might have sticky notes on my computer, calendar (yes, I still use a paper calendar), or on the cover of a book I am reading. With respect to the three-day rule, all that may be needed is the word "today" written as a reminder.
Teaching others what I am trying to implement also helps me to solidify it intellectually and acts as a reminder as well. As a homeschooling mom, I have a captive audience, alhamdulillah. Spouses are good for that as well and so are friends and other members of our families.
Some things are easier to learn and implement than others. For me, learning to live in the moment contently is a major outlook shift. I don't expect it to happen overnight, and it will certainly not happen without tawfiq—Allaah's (swt) enabling grace. But I believe is a necessary step in my spiritual development, so I am trying not to concern myself with "if and when it is going to happen" but with being content that I am trying at the present moment.
O Allah! I seek refuge with You from distress [worry about the future] and sorrow [grief about the past], from helplessness and laziness, from miserliness and cowardice, from being heavily in debt and from being overcome by men."
(Sahih al-Bukhari 2893, Book 56, Hadith 108)
J. Samia Mair is the author of five children's books, the most recent Zak and His Good Intentions (2014) and The Great Race to Sycamore Street (2013).  She is a Staff Writer for SISTERS Magazine and Discover, The magazine for curious Muslim kids and has published in magazines, books, anthologies, online magazines, scientific journals and elsewhere. She currently is working on a sequel to both recent books and on a historical novel.
© IIPH 2015
Related posts