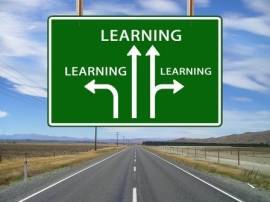 بسم الله الرحمن الرحيم
By Ruhaifa Adil
"Read in the name of your Lord Who created. Created man from a clot (of blood). Read! And your Lord is the Most Generous – Who taught by the pen – taught man that which he knew not." (Surah Al-Alaq: 1-5)
Isn't it incredible that Allah (swt) chose learning and the tool of learning – the pen – to be the first message revealed to the Prophet (sa)? Knowledge and its acquisition has always been held in high esteem in Islam; yet for many of us, its pursuit ends when we finish our schooling. Though we may join a course or two later on to brush up what we know, at the end of it, the learning phase is done and it's time to get back to the 'real' world.
Prophet Muhammad (sa) described the superiority of learned individuals over devout ones to be like the superiority of a full moon over the rest of the stars. He promised that those who set off on the path of knowledge will have their path to paradise made easy by Allah. (At-Tirmidhi and Abu Dawood; authentic) With such glad tidings awaiting the students of knowledge, why should we not embark upon the path of learning to become life-long learners? Here are 10 steps to help us along the way:
Step 1: Humble yourself
What keeps one from learning and improving is the belief that one already knows enough. Unless you believe that you still have a lot left to learn, you will stagnate. As you begin your journey, humble yourself before Allah, the All-Knowing. Remember that though He has revealed only very little knowledge (see Al-Isra: 85), it is still so vast that it is humanly impossible to encompass it all in one lifetime. Your attitude towards learning will make all the difference to your task.
Step 2: Start with the name of your Lord
In the first revealed Ayah of the Quran, Allah commands us to not just read, but to read with the name of Our Lord.  Knowledge that begins with the right intention, for the sake of Allah, will benefit the most. Make sure you start your journey with His name, the Most High.
Step 3: Rethink your definition of Ilm (Knowledge)
Any piece of information that brings you closer towards realizing the purpose of your existence, realizing who your Creator is, and working for the pleasure for your Creator, is ilm. Don't let learning become a game of trivial pursuit where knowledge is attained only for the sake of knowledge. With the advent of the internet, we already have all kinds of information at our finger tips. Strive to obtain only the knowledge that is beneficial for you in this world and the next.
Step 4: Determine your learning style
"And Allah has brought you out from the wombs of your mothers while you know nothing and He gave you hearing, sight and heart so that you may give thanks to Allah" (An-Nahl: 78).
Subhan'Allah! We are born with absolutely no knowledge, but Allah blesses us at birth with our five senses to enable us to make sense of the world around us and to gain from it. Research now tells us that every person has a different learning style; you may be a visual learner, an auditory learner or a kinesthetic learner. Figure out your learning style. Use this knowledge of to help you reach greater heights of knowledge and wisdom.
Step 5: Set Goals
Make realistic goals regarding:
What do you want to learn?
Why do you want to learn it?
When do you want to learn it by?
It could be something as simple as learning one new thing every day, making a list of books you want to read, or specifying a certain discipline of knowledge you want to master. Map out your journey so that you get to your destination.
Step 6: Read, read, read
Make your books your best friends. Once you fall in love with the printed word, the world is your oyster. Always have a book handy; whether you are waiting at the dentists, or watching over your kids at the park, you can always stick to your mission. Make sure your books match the goals you have set for yourself. You may check out our online store here for an amazing selection of books.
Step 7: Ask Questions
"Is not inquiry the cure of ignorance?" was the Prophet's response when some of his companions passed a ruling without asking. (Abu Dawood; reliable) Don't end up as a passive learner; never be afraid to ask questions. The more active learner you are the better. Every answer will open the locks to new doors and to new knowledge
Step 8: Find a group of like-minded learners
While many of your learning goals can be achieved alone, sometimes it is a great help to have a support group of like-minded learners to learn with. Your group can provide you with resources, ideas, and motivation that you may lack. Not only that, it's a lot more fun to learn with friends.
Step 9: Teach what you learn
Don't limit your learning journey to just acquiring knowledge. Always remember: unless you use it, you lose it, and this hold especially true for knowledge! Knowledge that is not accessed for some time gets buried under the avalanche of new information that floods your senses day in and day out. Teach others what you have learnt in order to keep the synapses to your knowledge banks alive, even if it means sharing with your family over the dinner table whatever new thing you have learnt. Reap the benefits of sadaqa-e-jaria at the same time insha'Allah!
Step 10: Repeat
This last step is probably the most important in your journey as a learner. As we move along on the path of learning and gaining knowledge, an increase in self-worth may open the doors to pride and arrogance. They signify an end to our journey as a life-long learner. At this point, we need to go back to the beginning of the cycle and humble ourselves. We need to remind ourselves that any knowledge we have is from Allah, and we must pray to Him:
"O Allah, teach us what benefits us, and benefit us with what you have taught us; increase our knowledge." (at-Tirmidhi; sound)
O Allah, guide us, guide others by us, and make us a cause for those who will be guided! May the learning never stop! Ameen.
Ruhaifa Adil is a mother of four, a practising Muslimah, an avid reader, and a passionate writer. She works primarily as a trainer for mothers and teachers, advocating a multi sensorial, learner-centred approach, which she has learnt through her work as a remedial specialist for children with dyslexia. She is also an author of English textbooks, based on the teachings of the Quran (currently under editing), and creative director of a Tafseer app for kids (soon to be launched Insha'Allah). 
© IIPH 2014
(No copyright infringement intended, image taken from www.flickr.com)
Related posts