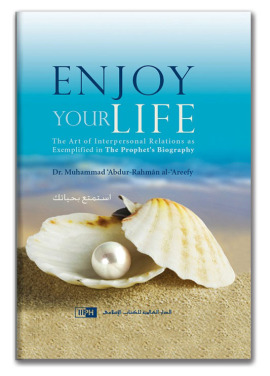 Can we enjoy the life Allah has blessed us with regardless of our circumstances?
How did the Prophet (sallallahu alayhi wa sallam) live his life in spite of facing the toughest challenges that any man has ever been through?
Abdullaah Ibn Haarith (R) said, "I never came across a person who smiled as much as the Prophet (salallahu alayhi wa sallam)." (Al-Tirmidhi)
Ali Ibn Abi Talib (R) said, "He was always cheerful, gentle and mild." (Al-Tabarani)
Jareer Ibn Abdullah (R) said, "I have not seen the Prophet, since I embraced Islam, without a smile on his face." (Al-Bukhari)
The Prophet (sallallahu alayhi wa sallam) managed to be cheerful and positive, and he spread happiness to people though he had faced several tragedies and difficulties from his childhood.
Celebrated Islamic preacher Sh. Muhammad Al-Areefi has highlighted from various incidents the exceptional talents of our beloved Prophet Muhammad (sallallahu alayhi wa sallam) in his book Enjoy Your Life!.
Download it now (eBook for iPad/iPhone and Kindle devices) and bring the positive change in your life that you've been yearning for. Your life deserves it! Print edition available as well.
Al-Areefi says, "An enjoyable life entails learning and practicing multiple skills; the few who truly apply them savour the success that comes with it."
"Of course, atop the list of the successful is the chief of humanity, Muhammad (blessings and peace be upon him). His entire life was an ocean of pearls that I have scattered throughout the pages of this book.
"Enjoy Your Life! is not the product of an effort of a month or a year. Rather, it has resulted from the research that I devoted myself to for twenty years. I inscribed it with my tears, pouring my soul and squeezing my memories into it."
[Coming soon: Personal accounts of how Enjoy Your Life and other Islamic self-help books changed the lives of many.]
Get the book now! Print edition available as well.
May Allah bless everyone with guidance and a good life in dunya and akhirah. Ameen.
© IIPH 2013
Related posts