By Ruhaifa Adil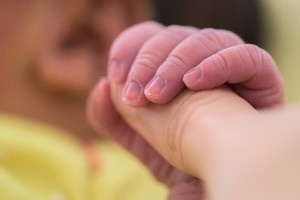 Bismillahir Rahmanir Raheem   
As the delivery date gets closer, parents get organized and pack what is needed for the stay at the hospital. They learn about what to expect during labour through pregnancy books and guides provided by the hospital. Muslim parents, however, are about to welcome a new member of the Prophet Muhammad's Ummah (nation) into this world and must be prepared in that respect. Here is a list of what to take to the hospital and what to remember when going through labour:
PACKING FOR THE HOSPITAL
Dates
Dates were the food that Allah provided for Maryam when she felt the pains of labour and after she gave birth to Isa (as). "Shake the trunk of the palm tree, and it will drop ripe dates on you, so eat, drink, and comfort your eyes with what Allah gave you." (19:25-26)
It is a Sunnah to rub the palate of the baby with softened dates (a ritual called Tahneek). Pack some dates with you so that you can eat some to help you gain strength during labour and for your baby.
Dua (Supplication) cards for use during labour
Though there are no duas suggested particularly for labour, there are various duas from the Sunnah to seek ease and relief. Make small dua cards as a reminder for yourself or as an aid for your husband to read out to you. Some duas may be:
اللَّهُمَّ لَا سَهْلَ إِلَّا مَا جَعَلْتَهُ سَهْلًا ، وَأَنْتَ تَجْعَلُ الْحَزْنَ إِذَا شِئْتَ سَهْلًا
O Allah! Nothing is easy except what You make easy, and You make the difficult easy if it is Your Will. (Ibn Hibban; sound)
يَا حَيُّ يَا قَـيُّومُ بِرَحْمَتِكَ أَسْتَغِيثُ
O Ever Living, O Self-Subsisting and Supporter of all, by Your Mercy I seek help. (Tirmidhi; odd)
أَنِّي مَسَّنِيَ الضُّرُّوَأَنتَ أَرْحَمُ الرَّاحِمِينَ
"Verily, distress has seized me, and You are the Most Merciful of all those who show mercy." (21: 83)
Also, make a list of duas that you may want to make to Allah. Your dua has a high chance of acceptance as it is a time of distress and Allah has said:
"Is not He (better than your gods) Who responds to the distressed one, when he calls on Him, and Who removes the evil, and makes you inheritors of the earth, generations after generations? Is there any god with Allah?" (27:62)

IPod, mobile, or laptop to play the Quran
You may want to carry a device to play the Quran for yourself during labour to soothe/ distract you from the pain. Also, once the baby is here, you can play the Quran in your hospital room. It is never too early to familiarize your baby with the Word of Allah.
Money for Sadaqah (voluntary charity) and tips for hospital staff
The hospital nursing staff looks forward to getting tips. You can also give sadaqah on behalf of yourself and your baby, so it's good to have money in smaller denominations for the purpose.
A large shawl
After your delivery, it may not be very comfortable to don your abaaya and hijab as you are transported to your room from the labour room. There may also be male personnel (such as the cafeteria staff that bring your meals), and a large shawl is a much easier to wrap around to cover yourself. You may also cover your face with its end if you do niqab (face veil).
Dua cards for protection
Make a card of duas for protection against the evil eye. There will be many visitors who will come to see you and the baby, and though no one means harm, it's always a good idea to read these duas for your baby to keep him or her in Allah's protection.
PREPARING FOR LABOUR
Allah says in the Quran: "And We have enjoined upon man, to his parents, good treatment. His mother carried him with hardship and gave birth to him with hardship…" (46:15) Labour is a difficult time for a woman, and a mother-to-be must be prepared to face its challenges by knowing what to expect. Here are some things that must be kept in mind when contractions begin:
Praying Salah
How does one pray during labour? The answer to that is that one prays to the best of one's ability. If the woman is unable to perform wudhu (ablution), she may do dry ablution or tayammum. If it is unbearable to stand, she may pray sitting down or lying down. However, if any bleeding has begun, then it is considered to be nifaas or post-natal bleeding and the woman is exempt from praying till the bleeding ends (up to 40 days). You can read more about this in this comprehensive book: Islamic Rules on Menstruation and Post Natal Bleeding
Getting up your strength
Have a few dates when you go into labour. That is what Allah suggested for Maryam and the immense nutritional benefits that lie in the fruit are well-documented. However, make sure to run this by your doctor in case you are not meant to eat anything.
Listen/ Recite the Quran
There is no sound evidence in the Sharia (Islamic law) that proves that the recitation of Surah Maryam or Surah Yusuf helps ease labour pain. However it is known that Allah has made the whole Quran as a cure: "And We send down of the Quran, that which is healing and mercy for the believers…" (17:82) Without singling out any portion of the Quran, listen to the Quran so that you can benefit from its healing powers. Close your eyes and try to concentrate on the words of the Quran. Focus on its meaning instead of thinking about the pain. If the hospital staff doesn't object, put on the Quran on speaker instead of the headphones so that your baby can hear the Words of Allah as well.
Utter words of Allah's remembrance (dhikr) and repentance (astaghfar)
Even if you have been given an epidural for pain relief, delivering a child is no easy task. Giving birth is possibly one of the most taxing of tasks on the human body and this is the time to remember your Creator as much as you can! It is He Who has created you and it is He Who is creating a new life through you. Make dhikr as much as you can.
This is also a great time to seek forgiveness from Allah. Remember: "Whenever a calamity befalls a Muslim, Allah expiates some of his sins because of it, even though it were the prick he receives from a thorn." (Muslim) Even though you are in a lot of pain, this is the time to put mind over matter and not miss the opportunity to cleanse yourself of any misdeeds!
Make Dua
Use the dua cards you have brought along, or just pray to Allah with all your heart. Ask Him to make your pain easy. Ask Him for a healthy life full of Eemaan (faith) and piety for your yet-to-be-born child. Ask Him to make parenthood easy for you. Ask Him to make your child a Sadaqa-e-Jariyah (continuous charity) for you. And as you become a parent, ask Him to forgive and bless your own parents, who went through the same ordeal as you go through now to bring you into this world.
May Allah make your labour easy for you, and may He deliver your child and you from this eventful day with ease and health. (Ameen!)
Ruhaifa Adil is a mother of four, a practising Muslimah, an avid reader, and a passionate writer. She works primarily as a trainer for mothers and teachers, advocating a multi sensorial, learner-centred approach, which she has learnt through her work as a remedial specialist for children with dyslexia. She is also an author of English textbooks, based on the teachings of the Quran (currently under editing), and creative director of a Tafseer app for kids (soon to be launched Insha'Allah). Her latest project is Qutor.com, a website that helps connect Quran teachers and students.
© IIPH 2015
Photo credit: ruimc77 / Foter.com / CC BY-NC-SA
Related posts