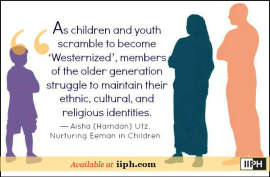 ❝ Although globalization is actually term that is meant to describe economic forces, it is having far-reaching effects on the social and moral structures of societies. Nations are not only importing goods and services, but they are also bringing in ideals, values, and morals that are often contrary to the traditional beliefs and practices of these societies. 
A child halfway around the world is exposed to the same mind-numbing, valueless, morally corrupt material as a child in America. As children and youth scramble to become 'Westernized', members of the older generation struggle to maintain their ethnic, cultural, and religious identities.
The most significant worry is the impact that these events are having on the Islamic values of families and societies; these values are suffering the most. 
We are all familiar with these images; however, the focus of this book is on the solution rather than the problem.❞
— Aisha (Hamdan) Utz, Nurturing Eeman in Children
© IIPH 2013
(Print and ebook editions available at www.IIPH.com)
Related posts