By Amina Salau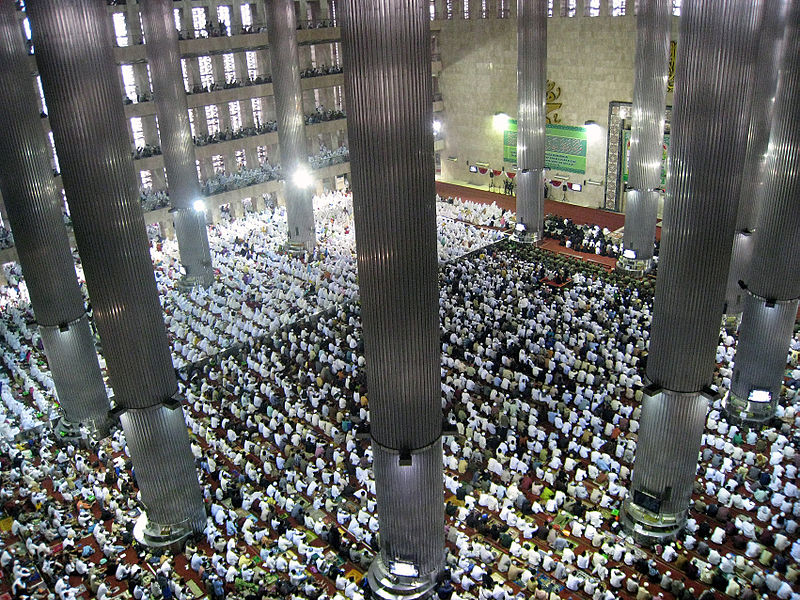 Bismillahir Rahmanir Raheem
Eid is a celebration taught to us by the Prophet (sa) himself. Now that Eid al-Adha is coming close, it is imperative to remind ourselves about the practices of the Prophet (sa) that have to do with Eid and also some that have to do with celebrations in general.
Attend Eid prayers with family
It was the Sunnah of Prophet Muhammad (sa) to attend Eid prayers with family members, especially women. This is evident in a hadith where he said: "Bring out the women who have attained puberty and those who are in seclusion so that they may attend the Eid prayer and (join in) the supplication of the Muslims. But let the women who are menstruating avoid the prayer place." (Ibn Majah; graded sound by al-Albani)
Part of the Sunnah of attending Eid prayers is also to go to the mosque by one route and leave through another as the Prophet (sa) was known to do. But remember that it is only advisable if this is possible or convenient for you.
Encourage all members of your family to attend Eid prayers rather than stay at home to prepare for the festivities to follow. This is a Sunnah practice that promotes unity and also helps everyone in the family improve their faith through worship.
Celebrate Eid
The days of Eid are the days of celebration for Muslims. Like the Prophet (sa), we should celebrate these days and do our best to mark them in a memorable way. Have a celebration with your family, take a ghusl (purification) bath, and go to the mosque.
If you can afford it, plan out some Eid activities in advance. This can include decorating the house, and inviting people to spend the day with you. This can even serve as a form of da'wah for non-Muslims when they see the spirit of togetherness, love, and unity of worship that surrounds the Eid festival.
Be moderate
This is a Sunnah practice that applies to our daily lives as Muslims, and even more so at the time of Eid. The Prophet (sa) wasn't extravagant in his affairs. If anything, he was the perfect example of a minimalist. Don't get too excited at the thought of Eid and go over the top with your cooking, clothes shopping, decorations, open house parties, and other celebratory planning.
Remember that Allah (swt) does not like those who are wasteful, and that there are people less fortunate than us who can benefit from what we have, without it diminishing our own enjoyment.
Give gifts
Abu Hurayrah reported that the Messenger of Allah (sa) said: "Give gifts and you will love one another." (al-Adab al-Mufrad; graded reliable by al-Albani) Use the opportunity of the day of Eid to spread love amongst friends, family members, and the community by sharing gifts. Make it a tradition to give thoughtful gifts to those who you love. Handwritten letters and beautifully-wrapped gifts that people will love, including authentic Islamic books and stationaries, are just some of the things you can give.
For parents, this is a way to build a tradition that is halal and one that children and the whole family will always look forward to.
Give voluntary charity (sadaqah)
The Prophet (sa) said: "A man helping his brother is sadaqah. A drink of water which he gives is sadaqah." (al-Adab al-Mufrad; graded sound by al-Albani)
Many people are not blessed to celebrate Eid the way that they want. Let's help fellow Muslims have a memorable day by giving sadaqah. You can donate part or all of your qurbani (animal sacrifice) to people living in war-torn countries, or even to a needy neighbour. We can also give out sadaqah in the form of gently-used clothing items, food items, cash, and support for those who are without these things.
Amina Salau is a freelance writer who is passionate about women's issues in Islam
© IIPH 2016
Attribution for Eid prayer image
Description:
English: Thousands of the Indonesian muslims congregrated during Eid ul Fitr mass prayer in Istiqlal Mosque, the largest mosque in Southeast Asia, located in Central Jakarta, Indonesia.
Bahasa Indonesia: Ribuan umat muslim Indonesia berkumpul untuk menunaikan shalat Ied pada Hari Raya Idul Fitri di Masjid Istiqlal, masjid terbesar di Asia Tenggara, terletak di Jakarta Pusat, Indonesia.
Date 31 August 2011
Source Own work
Author Gunawan Kartapranata
Related posts