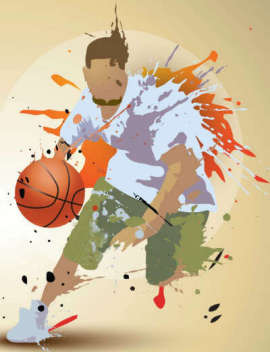 Excerpt from Having Fun The Halal Way: Entertainment In Islam by Abu Muawiyah Ismail Kamdar
WE live in a time in which, for many people, entertainment has become the most important aspect of life. Indeed, it would not be too far-fetched to state that many people today worship entertainment and entertainers.
In light of the current entertainment culture (commonly called pop culture), many Muslim parents find themselves in a dilemma regarding their children's access to entertainment. In general, two extremes have developed and been adopted, both of which lead to negative results.
The first extreme is of those who are overawed by the technological progress of the West and disheartened by the failure of Muslims in this area (and in all justice, we have been a failure in this area). This low self-esteem has led Muslims to embrace the Western entertainment-oriented lifestyle completely, so much so that it is not unusual to find Muslim homes with multiple television sets and video game machines, with no restrictions as to what kind of movies, songs or games are played. This is common in the homes of many who are ignorant of Islamic laws, suffering from low selfesteem, or simply very hedonistic in their lifestyles.
The negative effect of this is all too obvious, and one can see the repercussions everywhere. Muslims become brainwashed by the media to such an extent that it becomes impossible to distinguish them from the disbelievers. Such Muslims are busy with television, video games, movies, music and sports. They are also engrossed in earning money in order to indulge in such things, to the extent that they have no time to even think about Allah or Islam, let alone study or practise their religion.
The other extreme is of those who fear Allah (Subhan wa Ta'ala) but, due to ignorance or blind following of certain schools of thought or scholars, have totally rejected the idea of entertainment. Indeed, it is human nature to completely turn away from something which appears to be a cause of great evil. However, this hatred for entertainment has been taken by some to an unnatural extreme, which has had negative psychological effects on the youth and children raised in such households.
The youngsters in such homes are prohibited from enjoying any form of entertainment, whether inside the house or outside.
They are taught that they should spend all their time worshipping Allah, since that is what humans have been created for. (It is, indeed, the purpose of our creation; however, Allah has legislated for us a balanced religion). This is an unnatural state, similar to that of monks and their monasticism. All human beings have a natural desire to enjoy themselves and have fun. If such desires are overly suppressed, they can push an individual over the edge. I have often observed that such suppression leads to the youngsters becoming rebellious and turning to the worst forms of entertainment to try and satisfy their suppressed desires. One can routinely come across youths who hail from practising Muslim homes, yet who smoke, take drugs and are addicted to pornography.
Such observations clearly elucidate the need for and importance of a book on this topic. If we want to overcome the entertainment revolution without going to an unnatural extreme, we will have to learn and understand the true teachings of Islam regarding it. Islam is a complete way of life, which guides us on every issue. It is an easy and balanced religion. One should not be surprised to find that the Islamic view on entertainment is practical, easy to  follow, and balanced between the aforementioned two extremes.
© IIPH 2013
Get Having Fun The Halal Way: Entertainment In Islam print edition at IIPH.com
Related posts