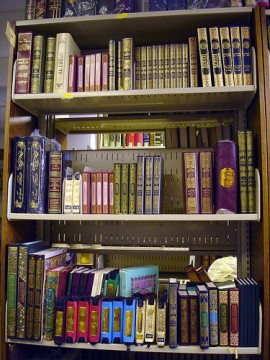 بسم الله الرحمن الرحيم
By Amina Salau
There was a period after my undergraduate study during which I had some free time on my hands. I used to recite the Qur'an so much so that I memorized a long chapter within a short period of time. That free time came to an end when I started graduate studies, and my recitation also took a back seat. There were days when I didn't even open the Qur'an, let alone memorize anything. This came with a lot of guilt. I knew I was busy but I also remembered Allah saying:
'Verily, in this (the Qur'an) there is a plain Message for people who worship Allah (i.e, the true, real believers of Islamic Monotheism who act practically on the Qur'an and the Sunnah legal ways of the Prophet." (Surah Al Anbiya: 106)
How could I claim to be worshipping Allah when I was not even reading the book He sent? I realized that my error was waiting for free time in which to recite the Qur'an, when I was supposed to create time so that I would be able to read the Qur'an daily.
Abu Musa narrated that the Prophet (sa) said, "Keep on reciting the Qur'an, for, by Him in Whose Hand my life is, the Qur'an runs away (is forgotten) faster than camels that are released from their tying ropes." (Sahih Bukhari)
If we want to make a habit of reading the Qur'an daily so that we do not forget it, move closer to Allah, and hopefully earn the reward of Jannah (paradise), here are a few methods that I suggest we try.
Make a Sincere Intention
Before starting anything, make a sincere intention to Allah that you want to embark on this journey for His pleasure alone. Making an intention either verbally or in your mind, ensures that you reap the reward of the activity, and that you start on a focused and positive note. When you make an intention to read the Qur'an daily, you are also committing yourself to it with Allah as your witness. As you make the intention, ask Allah for guidance and the strength to stay committed to reading theQur'an daily.
Have a Plan
Planning the best way to achieve your goal of reading the Qur'an daily comes next. You need to decide how many verses or pages you want to read per day. The Qur'an consists of roughly 604 pages and 114 chapters which are divided into 30 juz (parts). You can commit to reading anything from a few verses to a full page or more per day, depending upon the time available.
Choosing what time you want to read the Qur'an is also important. To achieve consistency and avoid distractions, pick a time when you are usually not busy, and can commit a few minutes every day to reading the Qur'an. If you do not drive to your place of work, you can read while commuting. Beforeor after prayers is also a good time. If you usually have a busy day, schedule your reading to night time, just before you go to bed.
If you find that you are always busy throughout the day, make a list of all the things you do in a day, and see what things can be removed or rearranged to create time to recite the Qur'an. When you pick the times during which you have less work to do, you have already eliminated the excuse of having to rush somewhere, thus postponing the recitation of the Qur'an.
Take Baby Steps
Rushing yourself or biting more than you can chew can easily overwhelm you, and discourage you from making a habit of reading the Qur'an daily. This is why it is advised to read in bits, as much as you can manage. It is more productive and beneficial to read a page per day, every day, than it is to read one chapter in a day and nothing for the next five days. Once you overwhelm yourself, you may start to find excuses like insufficient time and before you know it, you postpone reading the Qur'an daily, till you totally abandon it.
Remember, the goal is to make a habit of reading the Qur'an daily, not to finish reading it by a certain time.
Hold Yourself Accountable
In the same way you make sure that you do not miss any salah, you should act towards reading the Qur'an every day. Treat the daily recitation of Qur'an as important as observing your prayers, and you will slowly condition yourself to keep the habit. If you happen to miss any day, challenge yourself to make up for the missed day by reciting more on another day.
Amina Salau is a Nigerian freelance writer who is passionate about women's issues in Islam.
© IIPH 2014
Photo credit: T a k / Foter / CC BY-NC
Related posts