By J. Samia Mair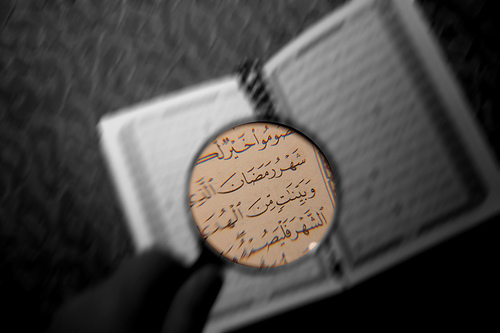 Bismillahir Rahmanir Raheem
For me, Ramadan approaches with great excitement and some trepidation. I love being able to focus a whole month on ibadah (acts of worship) and, insha'Allaah, receive the many blessings of an accepted Ramadan. But there is always some fear, some concern that my Ramadan will not be what I hope it to be—that I will be unable to put aside the dunya (world) as much as I should, that I will get sick and be unable to fast, and that my children will drive me crazy and I will snap at them, ruining an otherwise good day of fasting. I have had some Ramadans where I was so absorbed in worship that I didn't want the month to end. Other Ramadans were good, but not as spiritual, and I left the month wishing I had somehow done more. Over the years, I have found that my best Ramadans are those that I prepare for in advance. And the best way for me to prepare is to plan an ibadah schedule.
I base my schedule on the sunnah of the Prophet, blessings and peace be upon him, which I have learned through pre-Ramadan khutbahs (sermons), readings, seminars, etc. For example, Ibn Abbas (ra) stated:
The Prophet (saas) was the most generous person, and he used to become more so (generous) particularly in the month of Ramadan because Gabriel used to meet him every night of the month of Ramadan till it elapsed. Allah's Messenger (saas) used to recite the Qur'an for him. When Gabriel met him, he used to become more generous than the fast wind in doing good. (Sahih al-Bukhari 4997, Book 66, Hadith 19)
Thus, Ramadan is a time to focus on the Qur'an, the month in which it was revealed. I generally put aside reading hadith and seerah, books on fiqh (Islamic jurisprudence), Islamic history, etc. and confine myself to reciting the Qur'an, listening to the Qur'an, reading a translation, and reading a tafsir. I also give more charity, increase my dhikr, and try to do more good deeds. The Prophet (saas) stated, for example:
"Whoever draws near to Allah during it (Ramadan) with a single characteristic from the characteristics of (voluntary) goodness is like the one who performs an obligatory act in other times. And whoever performs an obligatory act during it is like the one who performed seventy obligatory acts in other times." (Saheeh Ibn Khuzaymah, no. 1887)
Az-Zuhri said:
"A Tasbihah in Ramadan is better than a thousand Tasbihah in other that it." (Jami` at-Tirmidhi 3472, Book 48, Hadith 103)
There is much more and, in fact, I have a Ramadan folder, a collection of articles or advice from scholars which I have collected over the years and which I re-read each year as I begin to plan my ibadah schedule. I make a list of all the acts of worship I would like to do and put it in a daily planner. I continually refine the format of my daily planner. I used to do it by the hour but I think it is better to schedule around the daily prayers. This year I am going to try the daily planner below, which will likely be tweaked as I fit in the acts of worship I hope to accomplish. I have filled in a few acts of worship to give some idea on how I fill out the schedule:
| | |
| --- | --- |
|  Pre-Tahajjud | Read Qur'an |
|  Tahajjud | 3 x 2 (units) |
|  Witr | |
|  Pre-Fajr | Duas for forgivenessSuhoor |
|  Fajr | |
|  Post-Fajr | Nafl prayers100 x each – subhanAllaah, Alhamdulillah, Allaahu Akbar |
|  Duha | 2 x 2 (units) |
|  Pre-Dhuhr | Nafl prayers |
|  Dhuhr | |
|  Post-Dhuhr | Nafl prayersDhikr |
|  Between Dhuhr & Asr | Salawat on the Prophet (saas);Read Qur'anGive charity |
|  Pre-Asr | Nafl prayers |
|  Asr | |
|  Post –Asr | Dhikr |
| Between Asr & Maghrib | Recite Quran; read tafsir |
|  Pre-Maghrib | |
|  Maghrib | |
|  Post-Maghrib | Nafl prayersDhikr |
|  Iftar | |
|  Between Maghrib & Isha | Qur'an – Surah al-Mulk |
|  Pre-Isha | |
|  Isha | |
|  Post-Isha | Nafl prayersDhikr |
|  Taraweeh | |
|  Post-Taraweeh | Light snack |
|  Sleep | |
In no Ramadan have I ever accomplished all the ibadah that I would have liked to accomplish. But I have a daily schedule that is carefully planned, and I know which acts of worship I do not want to miss and those that I hope to accomplish, given time and energy. Some years I have more time and energy than others. For example, some days when my children have been in camp, my day was almost totally devoted to worship. Other times, I am involved in more mundane tasks such as cleaning and running errands. But even those can be turned into acts of worship with the right intention.
Another beneficial thing about doing a daily schedule each Ramadan is you can see where you are in your spiritual growth, as compared to the year before. Am I accomplishing more than what I accomplished last year?
When do I start planning my schedule? As Rajab is ending and Sha'ban is approaching, I am starting to think about it already.
May Allah (swt) accept our fast and grant us the goodness of this blessed month.
Samia Mair is the author of five children's books, the most recent Zak and His Good Intentions (2014). She is a Staff Writer for SISTERS Magazine and Discover, The magazine for curious Muslim kids and has published in magazines, books, anthologies, scientific journals, and elsewhere.
© IIPH 2015
Photo credit: Capture Queen ™ / Foter / CC BY
Related posts