By Zahra Anjum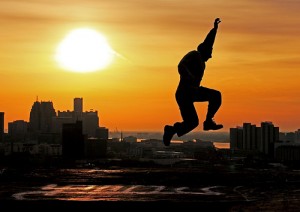 Bismillahir Rahmanir Raheem
An accountant once worked in a night club in an international hotel. He was not comfortable with this job and tried desperately to find another one. Although he looked everywhere, he was unsuccessful.
One day he met a religious scholar and complained to him about his situation. The Shaykh said: "You are trying the wrong way, my son. Allah says: "…And whoever fears Allah – He will make for him a way out." (Surah Talaq 65:2) You cannot reverse the verse. You should fear Allah and obey Him first, and then He will provide you with a way out – not the opposite." 
The scholar meant that the man should first quit his job, and then Allah will provide him with another one. This was a tough decision for the accountant to make. He had a family to support and had absolutely no other income. However, he thought long and hard and finally decided to fear Allah and quit the job. The next night, when he went to give his resignation, he was surprised to find his boss waiting for him; the branch of the hotel in Saudi Arabia was asking for an accountant, and he was nominated for the job! He would now get a much better salary and work in an alcohol-free environment!" (Adapted from The True Secret by Amira Ayad)
—–
A sister practiced Hijab against the wishes of her in-laws. They threatened to send her back to her parents' home. However, instead of giving in to their pressure, she stood firm. Allah (swt) helped her through her husband who stood by her, and today, she is among people who respect her for her choice.
Later, she wanted to go abroad to join her husband there. She sought Allah's pleasure by pleasing her husband and by playing the role of a Muslimah mother. However, family pressures indicated that she should stay in her home country and pursue her career. She opted to choose what was better and more pleasing to Allah and went to live with her husband.
At first, she faced trials and had many health problems. She was taunted for not having any children. Yet she did not lose hope in Allah and kept praying to Him. Eventually, Allah made matters easy for her, and despite being diagnosed with a genetic disorder He blessed her with a miracle child.
—-
Allah (swt) has promised great rewards and benefits for those who fear Him. He mentions in the Quran:
"…And whoever fears Allah – He will make for him a way out. And will provide for him from where he does not expect. And whoever relies upon Allah – then He is sufficient for him. Indeed, Allah will accomplish His purpose. Allah has already set for everything a [decreed] extent." (Surah Talaq 65: 2-3)
"…And whoever fears Allah – He will make for him of his matter ease. That is the command of Allah, which He has sent down to you; and whoever fears Allah – He will remove for him his misdeeds and make great for him his reward." (Surah Talaq 65: 4-5)
Put your trust in Allah (swt)
We need to put our trust in Allah and be firm in His obedience. In the beginning, He may test us to check our sincerity and truthfulness, but when the believer proves this by standing firm, Allah (swt) sends help from avenues that are unimaginable! If you are firm in the obedience of Allah despite the negative tides, have faith and glad tidings that assistance will definitely come. This is the promise of Allah, the Most Truthful.
If you make a choice on the basis of Taqwa, out of love for Allah and fear of His wrath, even if there is a visible worldly loss, Allah assures you that He will compensate you with a great reward. Not only will He reward you in the hereafter, but even in this world He will provide you with help and affluence. For example, if you choose a school for your child that is comparatively of a lower worldly status but is better in terms of Islam, Allah will not let your sacrifice go to waste. Or, you forsake your friends from the opposite gender knowing that Allah does not approve of it, be rest assured He will provide you with better alternatives and will make his obedience an easy task.
At times, we are in situations where people make us feel comfortable with our sins, telling us to not be too extreme. Moreover, Shaitan deludes us, urging us to continue sinning, feeding to us the wrong meaning of Allah's mercy. Sometimes, you might even find 'scholarly' advice that suits you. However, if the conscience is pure, it knocks at your heart and warns you; do not ignore it. Prophet Muhammad (sa) once said: "Virtue is good manners, and sin is what rankles in your heart and you do not like people to know about it." (Muslim)
Ramadan has just passed, having strengthened this inner guard; our conscience. It has armed us with Taqwa, the consciousness of Allah. Be mindful of Allah and do not hesitate to tread His path. If you take one step towards Him, He will take ten towards you. If you go to Him walking, He will come running towards you. (Bukhari)
Zahra Anjum is a freelance writer, editor and translator based in Islamabad, Pakistan.
© IIPH 2015
Photo credit: . : : v i S H a l : : . / Foter / CC BY-NC-ND
Related posts