By Ruhaifa Adil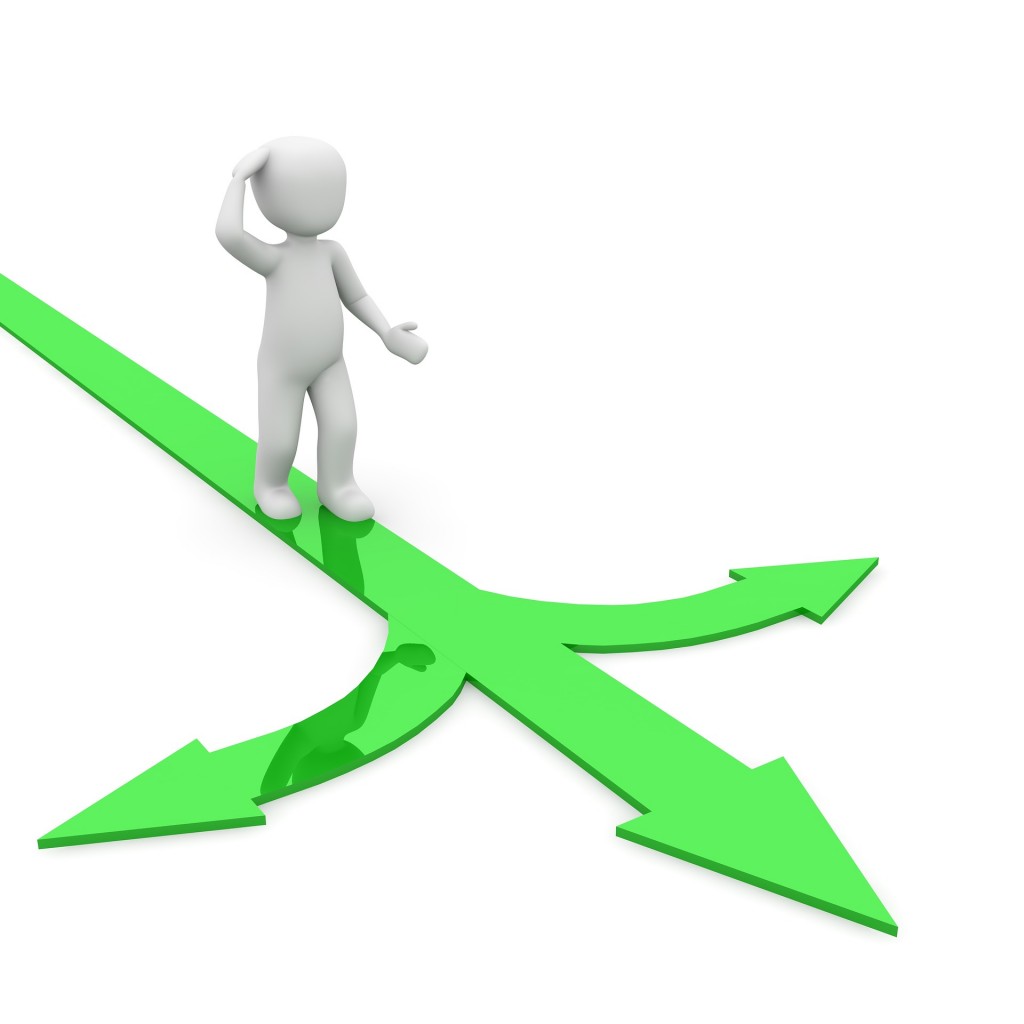 Bismillahir Rahmanir Raheem
We have to make decisions every day. From choosing what to wear to deciding what to eat for dinner, our days are spent making choices, usually within split seconds. Most of these decisions are 'habitual decisions': those that are so frequent in our routine that we don't put much thought into them. However, all of us encounter important decisions in life that require us to weigh our options carefully. Such decisions are known as 'genuine decisions', and they usually effect our lives in a significant way.
As Muslims, it is important that we don't make choices foolishly or without considerate thought. The Prophet (sa) said: "The strong believer is better and Allah loves him more than the weak believer, though there is good in both of them. Cherish what benefits you, seek help from Allah, and do not despair." (Muslim) 
Muslims should master the art of decision-making in order to make effective decisions because indecisiveness opens the door to Satan's meddling! Here are five steps to help you and your children learn how to make strong choices:
1- Define the problem
The matter must be clear in the mind of the person making the decision. Think clearly and understand the reasons for making the decision. Elaborate in your mind or on paper what the decision is all about. For example, if the Muslim family is deciding on where to go for vacation, they should list down why they want to go for a holiday: is it to get close to nature, to shop, to sightsee, for worship, to learn about art/culture, or for any other reason? The decision can then be clearly defined as "choosing a place to go for vacation where we can learn about art/culture."
2- Seek and think through the alternatives via Shoora (consultation)
Once the problem is defined, it is time to seek alternatives, that is, find possible solutions. All the people involved in making the decision should gather information about possible alternatives through research, discussion, or experience and then think through each alternative via Shoora (or consultation).
Shoora is an important concept in Islam where the common man is allowed to take part in the decision-making process. It is a great way to build a solid relationship between the leader and the people, in this case the Muslim family. Allah encouraged the Prophet (sa) to use Shoora: "And those who have responded to their Lord and established prayer and whose affair is [determined by] consultation among themselves, and from what We have provided them, they spend." (42:38)
There are several examples of the Prophet (sa) taking counsel from his Companions and following their opinions, particularly in war.
In a Muslim family, the entire family should be part of the Shoora, where the good and the bad of each alternative needs to be carefully weighed. The consequences of each choice should be thought in detail. The results of selecting each alterative should be visualized to reduce the chances of making the wrong decision. For example, considering the cost of travel, hotels, taxis, and the availability of halal food can be some factors that need to be thought on for choosing a vacation spot.

3- Making Istikharah
Istikharah means seeking guidance from Allah to make a decision about something. Istikharah is a Sunnah; it was narrated from Jabir (ra):
"The Messenger of Allah (sa) used to teach his Companions to make Istikharah in all matters, just as he used to teach them the chapters from the Qur'an. He said: 'If you are deliberating about a decision you have to make, pray two units of non-obligatory prayer and then say: 
O Allah, I seek Your guidance [in making a choice] by virtue of Your knowledge, and I seek ability by virtue of Your power, and I ask You of Your great bounty. You have power, and I have none. And You know, and I do not know. You are the Knower of hidden things. O Allah, if in Your knowledge, this matter (then it should be mentioned by name) is good for me both in this world and in the hereafter (or: in my religion, my livelihood, and my affairs), ordain it for me, make it easy for me, and bless it for me. And if in Your knowledge, it is bad for me and for my religion, my livelihood, and my affairs (or: for me both in this world and the next), turn me away from it, [and turn it away from me]; ordain for me the good wherever it may be and make me pleased with it." (Bukhari)
The one praying Istikharah must have an open mind and not have decided on a specific course of action.
4- Selecting an alternative
After praying Istikharah, some people mistakenly wait for a dream to give a clear sign as to what decision to make, but this is not true. Instead, one should do what one feels is best, keeping in mind all the pros and cons that were thought of before. One should not insist on doing what one had desired to do before making the Istikharah if one's feelings have changed. (Reference: Islam-qa)
5- Accepting responsibility for the decision
This is possibly the most important step in decision-making. Sometimes, the decisions do not turn out to be as satisfying as one expected them to be. At such times, our regrets lead us to say "If only, I had chosen the other option." However, saying 'if only…' is dangerous, and one should stay away from it as the Prophet (sa) said:
"If a calamity befalls you, do not say: 'If only I had done that, it would have been like that.' Say instead: Qadr ullaahi wa maa shaa'a fa'al. (It is the destiny of Allah and He does whatever He wishes), for surely 'if' opens the door to Satan." (Ibn Majah: authentic)
Do not dwell on the matter. Accept the consequences of your decision, and move on. Do not look behind with regret, but look ahead with hope. Accept the will of Allah, knowing that what He wills is the best for you, for He says in the Quran: "…Put your trust in Allah, certainly, Allah loves those who put their trust (in Him)." (3:159)
Ruhaifa Adil is a mother of four, a practising Muslimah, an avid reader, and a passionate writer. She works primarily as a trainer for mothers and teachers, advocating a multi sensorial, learner-centred approach, which she has learnt through her work as a remedial specialist for children with dyslexia. She is also an author of English textbooks, based on the teachings of the Quran (currently under editing), and creative director of a Tafseer app for kids (soon to be launched Insha'Allah). Her latest project is Qutor.com, a website that helps connect Quran teachers and students.
© IIPH 2016
Related posts