By Tasnim Nazeer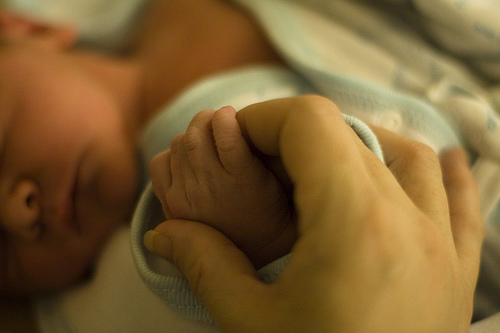 Bismillahir Rahmanir Raheem
Having a baby is a spiritual and blessed time. A new addition to the family always brings about happiness, and gives us an opportunity to be grateful to Allah (st) for His blessings.
Many mothers often feel worried about keeping up with their religious obligations when their baby is born, as they are struggling with post-partum difficulties, adapting to a new routine, and finding it challenging to care for their newborn (and other children, if any).
Following are the five top ways to enrich your faith after having a baby:
1. Make Dhikr
A wonderful thing about Dhikr is that you can recite it at any time. Dhikr is part of worship, and nothing is more beautiful than the remembrance of Almighty Allah (st) names. Dhikr can be made at times when you are nursing your baby or even when putting your little one to sleep, as it is extremely soothing. You engage in an act of worship whilst caring for your baby and gain Allah's pleasure. Aishah (rah) narrated that the Messenger of Allah (sa) used to remember Allah, the Great and Majestic, at all moments. (Abu Dawood; sound)
2. Listen to the Qur'an
One of the most productive deeds in early motherhood to help find spiritual fulfilment is listening to the Qur'an. Early exposure to the recitation of the Qur'an is not only beneficial for your spiritual enhancement but has many benefits for the newborn as they hear and listen to Allah's words.
Abu Musa Al-Ashari (ra) narrated that the Prophet (sa) said: "The parable of the believer who recites the Qur'an is that of a citron, which tastes and smells good. The parable of a believer who does not read the Qur'an is that of a date, which tastes good but has no smell. The parable of a hypocrite who reads the Qur'an is that of basil, which smells good but tastes bitter. The parable of a hypocrite who does not read the Qur'an is that of a colocynth (bitter-apple), which tastes bitter and has no smell." (Bukhari)
3. Talk to Allah (st)
When you are a new mum, there are times when you feel tired and exhausted while adjusting your life around your little one. During these times, it is important to talk to Allah and turn to Him. He is All-Merciful and listens to us, so connect with your Lord and place all your concerns and hardships in His Hands enabling you to deepen your connection with Him and remain patient through difficult times.
Abu Huraira (ra) reported that Allah's Messenger (sa) said: "The supplication of every one of you is granted if he does not grow impatient and says: I supplicated but it was not granted." (Muslim)
4. Take Special Care of Hygiene
Prophet Muhammad (sa) stated: "Cleanliness is half of faith." (Muslim) When a new baby comes into our lives, it is especially important to take special care in maintaining hygiene. It will be difficult to change diapers, clean up spit and vomit, change soiled bedsheets and clothes, and so on, but Insha'Allah, Allah (st) will reward you tremendously for upholding the highest standards of cleanliness.
5. Give Charity
Apart from the aqeeqah, give as much voluntary charity as you can. Even donating old clothes to a charity shop can be a form of charity. This deed will not only make you feel good but will also increase your rewards and blessings from Allah Insha'Allah.
Abu Dharr (ra) narrated that the Messenger of Allah (sa) said: "Smiling in the face of your brother is charity, commanding good and forbidding evil is charity, and giving directions to a man lost in the land is charity for you. Seeing for a man with bad sight is a charity, and the removal of a rock, a thorn, or a bone from the road is charity. Pouring what remains from your bucket into the bucket of your brother is charity." (at-Tirmidhi; reliable)
Tasnim Nazeer is an award winning Freelance Journalist/Writer and Author who has written for a variety of print and online publications including CNN International, The Muslim News, Your Middle East, Islam Channel and many more. She was awarded The Muslim News Award for Excellence in Media 2013 and is an UN Universal Peace Federation Ambassador for Peace. For more information visit her website at www.tasnimnazeer.com or follow her on Twitter: @tasnimnazeer1
FB Official page: www.facebook.com/TasnimNazeerOfficial
© IIPH 2015
Photo credit: https://www.flickr.com/photos/bibbit/6091832360
storyvillegirl
http://foter.com
Foter
http://creativecommons.org/licenses/by-sa/2.0
CC BY-SA
Related posts