By Tabassum M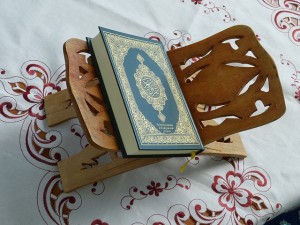 Bismillahir Rahmanir Raheem
When we meet someone for the first time, we start by noting down their apparent characteristics. As we get to know them better and better, we discover their deeper virtues and begin to like them more, until they become our best friend.
Who deserves our friendship the most? The one who will be there for us (in sha Allah!) on that Day when even our mothers will forsake us. The Prophet (sa) said: "The Quran will meet its companion on the Day of Resurrection when his grave is opened for him, in the form of a pale man. It will say to him: Do you recognize me? He will say: I do not recognize you. It will say: I am your companion the Quran, who kept you thirsty on hot days and kept you awake at night…" (Ahmad, 394; graded reliable by al-Albani)
So let's get to know some attributes of our special friend.
1. Dhikr
"So where are you going? It (the Quran) is not except a reminder (Dhikr) to the worlds for whoever wills among you to take a right course. And you do not will except that Allah wills – Lord of the worlds." (81:26-29)
The Quran is the ultimate reminder for humankind – but in order to benefit from it, we must do two things:
Ask Allah the Almighty to open our hearts to it.
Take the right course. We need to prove to Allah that we really crave this reminder. Ask yourself: How am I proving to Allah that I deserve entry on the Straight Path? How much time do I spend with the Quran? How much effort do I exert in learning, understanding, and implementing its verses?
"So where are you going?"
Towards Allah, of course. But how do we reach Him? By taking the Straight Path. But without the guidance of the Quran, we won't even know where the Straight Path is.

2. Noor

"O humankind, there has come to you a conclusive proof from your Lord, and We have sent down to you a clear light (Noor). So those who believe in Allah and hold fast to Him – He will admit them to mercy from Himself and bounty and guide them to Himself on a straight path." (4:174-75)
When we're lost in darkness, our heart leaps with joy when we perceive even a tiny ray of light peaking from the distance – because we know that it'll give us guidance.
The Quran is the light that illuminates our way along the Straight Path so that we can clearly see where we're going. But how do we ensure that Allah doesn't take away our light? By firmly believing in Allah and holding fast to Hm.
3. Furqaan
"Blessed is He who sent down the Criterion (Furqaan) upon His Servant that he may be to the worlds a warner." (25:1)
A Furqaan is like a knife – once you cut an apple with it, it divides into two distinct portions: one fresh and the other rotten. The Furqaan leaves no ambiguity between truth and falsehood. After the Quran started coming down, the population of Makkah became automatically divided into two distinct groups: steadfast believers and staunch disbelievers.
Whenever we're confused about a matter, all we need is to refer to the Furqaan, and it will make things crystal clear. For example, if we're unsure how to respond to an angry parent, we simply refer to the Quran:
And your Lord has decreed that you not worship except Him, and to parents, good treatment. Whether one or both of them reach old age [while] with you, say not to them [so much as], "uff," and do not repel them but speak to them a noble word. (17:23)
4. Tanzeel
And [it is] a Quran which We have separated [by intervals] that you might recite it to the people over a prolonged period. And We have sent it down progressively. (17:106)
The word "tanzeel" indicates the fact that the Quran was sent down in small portions.
It is Allah's infinite wisdom that He didn't send down the Quran in one go. Imagine how you'd react if your teacher told you to learn a year's worth of lessons in one day – if you're like me you'd totally freak out.
Because the Quran was sent down in portions, the believers found it easy to learn the verses, memorize them, reflect on them, and act upon them. And so, when we become students of the Quran, we must keep in mind not to push ourselves too much. Just take it easy, and learn like the Sahaba!
5. Bushra
"And Allah made it not except as [a sign of] good tidings for you and to reassure your hearts thereby." (3:126)
When reminding others and ourselves, we tend to focus more on the negative than on the positive. Yes, the Quran is Nadheer – a warner, but it also is Bushra – good news!
It gives good news, for those who follow it, a happy life in this world and unimaginable rewards in the hereafter. It reminds us of Allah's favours upon us and gives us hope of His mercy.
When Yusuf (as) was (wrongfully) thrown into prison, he encountered two other prisoners, who questioned him about dreams. Did he tell them, "O you two criminals! Don't talk to me about dreams. You're worried about petty dreams when you're going to be punished by Allah for your crimes?"
Of course not. Yusuf, the possessor of beauty – beauty of the body and the soul – started by giving them positive da'wah.
And I have closely followed the creed of my fathers, Ibrahim and Ishaq and Yaaqub… That is of the Grace of Allah to us and to humankind; but most humankind do not give thanks. O (you) two companions of the prison! Are (some) disunited lords more charitable (i.e., better) or Allah, The One, The Superb Vanquisher? (12:38-39)
There are many more beautiful attributes of the Quran which deserve our acquaintance. Get to know the Quran better and better – you just have to let it talk to you, and soon it will become your best friend, in sha Allah!
Tabassum M is a student of MA in Islamic Studies at IOU and an intermediate level student at al-Salam Institute. She also has a degree in Mechanical Engineering and is interested in psychology, sociology, history and current affairs, sharing her reflections at the blog sections of IIPH and Ibana. Contact: tabassum_mosleh@hotmail.com
© IIPH 2015
Related posts