By Ruhaifa Adil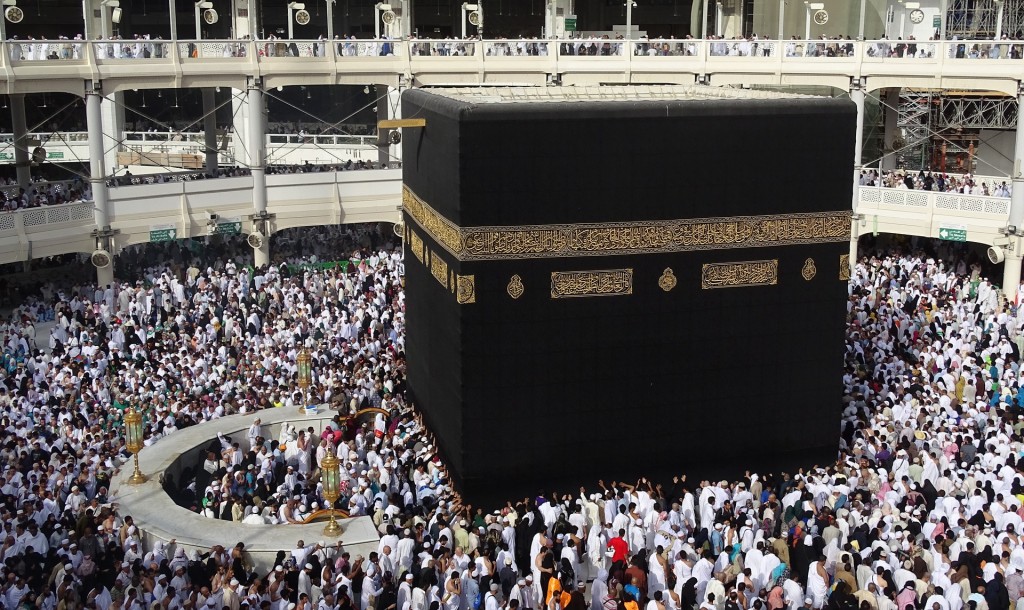 Bismillahir Rahmanir Raheem
The reward for performing worship at the two Harmain – the Kaaba (the House of Allah) in Makkah, and Masjid-e-Nabavi (the mosque of the Prophet [sa]) in Madinah are unparalleled as reported in a hadith:
"One prayer in my mosque is better than one thousand prayers elsewhere, except for al-Masjid al-Haraam, and one prayer in al-Masjid al-Haraam is better than one hundred thousand prayers elsewhere." (Ibn Majah; sound)
Travelling for either Hajj or Umrah with small children is indeed a difficult task. Children's needs have to be looked after; they also get bored easily and may disturb their parents and other worshippers. Here are five suggestions to help you keep your children busy and happy so that you can maximize your worship and take full benefit of this great opportunity:
1- Snack pack
Pack ample amount of snacks for your little ones. Hungry children can soon become irritable and cranky and may not listen to any reason or rhyme once their hunger has crossed limits. Keep the snacks low-sugar because sugar may make children hyper, resulting in an even more difficult situation! Stay away from packaged chips, biscuits, and juices; instead pack healthier options such as:
(i) Fruits like apples, bananas, pears, grapes, and dates
(ii) Sandwiches. Buy bread and various fillings (such as cheese, jam, deli meats) from the local store and keep in your hotel room. Make fresh sandwiches before you head to the mosque
(iii) Buns, croissants, rolls, and cupcakes that you can find in the bakery section of stores.
(iv) A small treat like a chocolate bar or candy that you can use in an emergency situation in which your child is getting unreasonable. This should be used only when you need a few more minutes to pacify the child to pack up and leave without disturbing other people
(v) A water bottle to refill Zamzam from the coolers around.
(vi) An empty bag to throw any garbage so that you don't make a mess in the mosque.
2- Change of clothing
Make sure you pack two outfits per child in case of any mishap. Also keep a pack of wet wipes, tissues, hand sanitizer, empty trash bag, and extra diapers if your children use them. Even if your young child is potty-trained, keep him or her in pull-up diapers so that no accident happens before you can make it to the bathroom.

3- Sleeping supplies
Carry a soft blanket and a small cushion to serve as makeshift bedding in case your child wants to sleep.
4- Toys and books
The most important things you need to pack are toys and books to keep your children occupied. Here are some ideas on what to pack:
(i) Reading books – books that your older children can read by themselves, or small picture books that your younger ones can flip through. Some great books can be bought over here.
(ii) Stationery-pack markers, crayons, colours, glue stick, scissors, stickers and lots of paper to keep your kids creatively busy. Make sure to pack a trash bag to clean up before you leave. Do not carry glitter or liquid glue that you won't be able to clean up.
(iii) Manipulative toys: Toys like blocks, pipes, and pegs are great toys to keep your kids focused and busy at the task. Make sure the toys you take are age-appropriate, require little or no assistance, and are not noisy (like electronic or musical toys or tool sets). Other ideas include lacing beads or cards, Lego, and toy cars.
(iv) Gadgets: Even though this may be a last resort, an IPod or Android Tab may keep kids occupied for a while. Make sure you have downloaded only educational material that will actually teach your kids something. You will have to mute your gadget so don't download any game that requires sound to enable play.
5- Material to involve your kids in worship
Give your kids the opportunity to get involved in worship as well. Buy them small prayer mats, dua books, and caps/scarves to take along. If your children are older, help them brainstorm what extra worship they can do (such as reciting Surahs, offering voluntary prayers, making duas [supplications], making extra tawaaf [circumambulation]) and make a checklist that they can tick off. This will make them feel independent and responsible for their own worship as well.
You will require a lot of patience and tolerance when travelling with young children and you may not be able to do as much worship as you intended, but know that Allah will reward you for your efforts and your intentions Insha'Allah. Your children will be positively affected by their stay in these cities and that in itself is worth any sacrifice you may have to make.
Ruhaifa Adil is a mother of four, a practising Muslimah, an avid reader, and a passionate writer. She works primarily as a trainer for mothers and teachers, advocating a multi sensorial, learner-centred approach, which she has learnt through her work as a remedial specialist for children with dyslexia. She is also an author of English textbooks, based on the teachings of the Quran (currently under editing), and creative director of a Tafseer app for kids (soon to be launched Insha'Allah). Her latest project is Qutor.com, a website that helps connect Quran teachers and students.
© IIPH 2016
Related posts