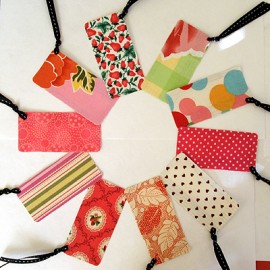 بسم الله الرحمن الرحيم
By Ruhaifa Adil
"Exchange gifts, as that will lead to increasing your love for one another." (Bukhari)
Research studies attest to the benefits of giving – giving gifts not only affects the recipient's health and happiness but also the giver's, leading to the strength of entire communities. No wonder the Prophet (sa) gave gifts generously!
A dilemma, however, faced by most of us when choosing gifts for children is what to get. Toys and movie/cartoon paraphernalia seem to be the only choice when one goes shopping. With too many toys scattered around the house as it is, more toys just add to the pile, and none of them end up adding any value to the child's life.
Here are some great non-toy ideas for the Muslim child which can help inculcate some important values along with being fun!
1. Classes for Sunnah sports
Classes are a great way for kids to learn a new skill, and have fun as well. Though there are many classes one can choose from, the best of these in the words of our Prophet (sa) are: "Teach your children swimming, archery, and horse riding." (Muslim) Enroll your children into classes that offer any of these Sunnah sports, and let the children reap the benefits of following the Sunnah and having fun!
2. Books or book gift certificates
Books are always a great gift, and one can never have too many of them. You can either buy books for your children (a great place to check out some books is our online store www.iiph.com) or get them gift certificates so that they can go and choose books that they like. As parents, however, make sure you are there to guide them towards beneficial books as the Prophet Muhammad (sa) said:"Knowledge from which no benefit is derived is like a treasure out of which nothing is spent in the cause of God." (at-Tirmidhi)
A beneficial list of non-Islamic books that are suitable for Muslim audiences can be found here.
3. Subscriptions
Get subscription to magazines for your children. It's always fun to get something in the mail in your name, and there is a whole variety of magazines out there ranging from science, crafts, religion, general knowledge, the environment, and others that cater to children of all ages.
You can also get subscriptions to online websites. There are online subscriptions for science clubs, reading clubs, Islamic channels, educational videos and games, eBooks and magazines that can be the perfect gift! Again, a word of caution: parents need to monitor what the children do online.
4. Memberships or Events/ Activity Passes
Passes to local events such as Islamic conferences or book-readings, tickets for the zoo, museum, aquarium, skating rink, rock-climbing or amusement park, etc. are also a great idea. Getting kids their own memberships to libraries, museums and sports clubs can be a great gift as well!
5. The gift you get in Jannah
Tell your children that you will be gifting them something that they will get in the hereafter. Put some cash in a sealed envelope and show it to your child. Tell him that there is an amount of money inside that you are sending to Allah on his behalf that he will get when he goes to Jannah – an amount that will be multiplied many times over insha Allah (if Allah wills). Give this money to a charity of your child's choice.
6. Recipe kits
Assemble all the ingredients (in the right quantity and with a recipe guide) to your child's favourite treat and gift it to him. This is a yummy treat, a fun activity, and a great way to bond all packed in a box. Children can choose who to make the treat with such as with their grandparents, an aunt, mom or dad.
7. Arts and crafts supplies
Put together a fun kit of arts and crafts supplies for the kids to use. You can either gift them all the material needed to make one project, or a variety of craft supplies. This can be a great way to teach children the etiquettes of art in Islam, and what is or isn't allowed in terms of drawing figures and faces.
In the second part of this post, we will discuss more non-toy gift ideas, insha Allah.
Ruhaifa Adil is a mother of four, a practicing Muslimah, an avid reader, and a passionate writer. She works primarily as a trainer for mothers and teachers, advocating a multi sensorial, learner-centred approach, which she has learnt through her work as a remedial specialist for children with dyslexia. She is also an author of English textbooks, based on the teachings of the Quran (currently under editing), and creative director of a Tafseer app for kids (soon to be launched Insha'Allah). 
© IIPH 2015
Photo credit: craftapalooza / Foter / CC BY-NC
Related posts