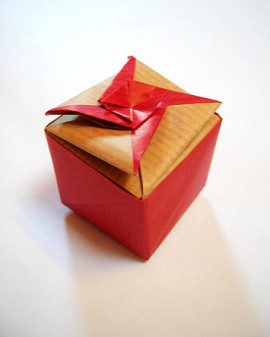 بسم الله الرحمن الرحيم
By Ruhaifa Adil
Inside the box
Our mind is like a stretch of plain land. When it rains, the land erodes to form ridges and depressions. When it rains again, water starts to settle into the depressions that were formed earlier. Similarly, when our minds are bombarded with information, this information forms ridges and depressions so to say, creating a pattern of concepts and ideologies. Any new information falls into the same pattern. In other words, our mind keeps arranging the information in a typical old pattern, leading us to think in the same old way and coming up with the same obvious solutions. Most of us tend not to think "outside the box", leading us to stay within the comfort of our routines.
The modern world is a challenging place to live in. It poses many situations to the average Muslim which seem like an "either/or" situation: they can either have fun and live in this world or follow Islam. Many Muslims unfortunately confine themselves to this box, and live very unfulfilled lives, either in terms of dunya or deen.
The fact, however, is that Muslims have always been lateral thinkers; those who challenged assumptions, generated alternative solutions, asked why and came up with creative solutions to their problems while staying within the boundaries of Islam.
The example of Ibrahim (as)
The problem the young Ibrahim (as) faced was that the people around him were idol worshippers who worshipped everything from the stars to the sun. This was difficult for him to accept. He was, however, a lateral thinker: he questioned and challenged the assumptions his society had regarding gods and rose above the pattern. He explored the alternatives that made more sense. Since the people around him worshipped the stars and took guidance from them, he started thinking about them first: the star was definitely bright and beautiful, qualities that one would want in a supreme being! However, the star would disappear during the day and would not always be there as a guide, a quality not befitting a Master. Other alternatives were the sun and the moon, but Ibrahim (as) realized that all of these so-called deities appeared to be obeying a higher force or being who controlled all the discipline and order that was present around him. He finally concluded that there is only one God – a concept for that time and era to be not just out of the box, but beyond it!
Outside the box
Let us follow the example of Ibrahim (as) when dealing with problems that we come across as Muslims living in the modern world – a world that has replaced the worship of the one true God, with worshipping the deities of pleasure and self.
1: Challenge your assumptions
We all tend to assume things based on our perception of the situation. Remember, there may be another perspective that you may not have thought of. Never accept something just because that has been the way it has always been. If the early Muslims had not challenged what their forefathers erroneously believed, none of them would have converted to Islam.
Ask why. Gain knowledge. The Quran has been sent to us so that we can search for our answers in there. Always make sure you have all the facts about your problem and that you have researched what Islam actually says about the matter rather than just assuming what Islam says or relying on hearsay.
Read more about challenging assumptions and other practical ways to think outside the box in Part 2 of this article.
Ruhaifa Adil is a mother of four, a practising Muslimah, an avid reader, and a passionate writer. She works primarily as a trainer for mothers and teachers, advocating a multi sensorial, learner-centred approach, which she has learnt through her work as a remedial specialist for children with dyslexia. She is also an author of English textbooks, based on the teachings of the Qur'an (currently under editing), and creative director of a Tafseer app for kids (soon to be launched Insha'Allah).
© IIPH 2014
Photo credit: Mélisande* / IWoman / CC BY-NC-SA
Related posts