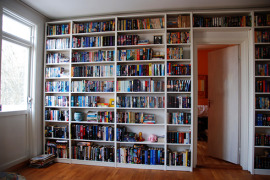 بسم الله الرحمن الرحيم
By Amina Salau
I like to think of myself as a book collector. I enjoy the ageless thing books have going for them; you can read a copy over and over again, and always go back to it when you need a piece of information. Over the years, my collection of Islamic books has grown to a very sizeable collection. As I've travelled or changed houses, I've had to store them in closets, baskets or boxes. At times, I forget that I have a particular book which could have served me well during Iman lows or when I needed to reference a piece of information that I'd already memorized.
When I finally settled down, I decided to make a library to preserve and showcase, as well as share, my books. Putting them in a dedicated space finally allowed me to explore the ones I hadn't read before, remember to reread the ones whose contents I was forgetting, and to share my collection with my family and friends.
If you are looking to build an Islamic library for yourself or for your family, here are a few steps you can use to build an enjoyable one.
Find a suitable space
It is important to set up a library in an appropriate part of the house so as to aid concentration and avoid distractions, especially at family reading times. If you are not short on space, a dedicated library room is best. This can be filled with shelves, furniture, a computer and essential stationery.
If space is an issue, you can consider using a corner of the living room. A single wall shelf is suitable, along with a table and chair, as in a home office. You can just ensure that the wall shelf is at a height accessible to everyone using the library. Using some part of the living room also gives your guests the opportunity to read and learn from your collection.
Another option is to use a portion of the prayer room or mosque, if available. The good thing about using the prayer room is that one can make a habit of staying back after prayers to do some reading. You can also schedule family reading time after prayers.
Pick appropriate books
Whether you already have a collection of books, or are just starting to build them, the next step in setting up your Islamic library is to pick an appropriate selection of books. A good Islamic library should consist of authentic, original, and well-printed books, suitable for every Muslim.
Authentic and well-researched books are extremely important to avoid misleading information about Islam, which is widespread these days. If their printing and binding is of high quality, it will ensure that your books can stand constant usage without falling apart.
Here are a few categories of books you may want to include when setting up your Islamic library:
The Qur'an: The Book itself, along with its tafseer (exegesis), translation, and tajweed
Hadith books like Sahih Bukhari, Muslim, etc.
Dawah pamphlets for guests
Audio tapes of Qur'anic recitations or lectures by reputable Islamic scholars
Islamic videos
Arabic dictionaries with translation to your preferred language
Supplication books
These are just a few examples of what can make up the contents of an Islamic library, and one can always include more resources as suitable.
Stationery and equipment
No library is complete without stationery supplies. Stationery is necessary to highlight what has been learnt, and for you to write down information for reference purposes. Also, having electronic library equipment will make reading and learning more enjoyable. You can easily print out articles from the web or photocopy a page from a book. Some stationery items and equipment ideal for an Islamic library include:
A computer
A printer
Pens
Writing pads
Book dividers
Highlighters
Post-it notes
Whatever your preference in terms of space and content, setting up an Islamic library in your home should be an incredibly easy and enjoyable experience that will aid you and your family to attain authentic knowledge of Islam.
© IIPH 2014
(No copyright infringement intended, image taken from www.flickr.com)
Related posts