By Ruhaifa Adil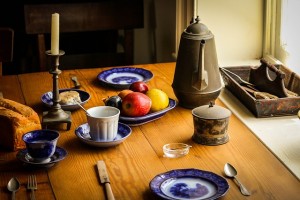 Bismillahir Rahmanir Raheem
'Families that eat together, stay together' is an old adage that is time-tested and proven. The dinner table is a great time for families to catch up, not only on the day's events but also to keep in touch with each other and to stay connected.
Islam lays great importance on the institution of family. Islam encourages marriage instead of free-mixing; it lays great emphasis on dutifulness to parents and the rights parents must give their children; it teaches men and women how to live in harmony as man and wife; it encourages everyone to take care of their blood relatives. Thus each member of the family is taught about the rights they must give and receive! Indeed, Shaytan's biggest attack is to separate a husband and wife as this crumbles the family unit and leads to much destruction in the Muslim society.
Sometimes it is hard to come up with what to talk about after the usual topics are exhausted. Particularly when children grow older, it becomes difficult to induce them to talk in more than single line answers to questions parents have. Besides, families should not only know the basic facts about each other, but they should also be acquainted with each other's thoughts, opinions, desires, dreams, and ideas to create strong and lasting bonds. Here are some great conversation starters to use, not only at the table, but also during long car rides, family get-togethers, and parties!
1. Family Questions
Table-time can be a great time to find out what thoughts each member of the family has regarding each other and their opinions about how things can be different. These questions can also lead to the promotion of positivity in the family about each other:
Which character traits of your brother's and sister's would you like to have?
What are the best ways for parents to show their children they love them?
What do you admire the most about your parents?
Would you discipline your own children differently when you become parents?
What do children know more about than adults?
What is the best thing about your position in the family birth order?
What gift do you think each member of your family would like?
What gift would you like the most?
2. Self-Awareness
Here are some great ideas to increase self-awareness and also to discover things about each other you didn't know before. Make sure that everyone expounds the reasons for their answers. These questions can lead to some great discussions and are also good opportunities to mentor kids:
How are you different from everyone else?
In what ways are you generous?
Are you more comfortable as a leader or follower?
Which animal would you love to be for a day?
Which event in the past or future would you like to have witnessed/witness in person?
What one goal do you hope to accomplish this year?
What's the nicest thing you've ever done for someone?
Define a hero. Who in your opinion is your hero?
Who is a good loser? Are you one?
3. Thought-provoking
Sometimes it takes thinking aloud to get to know one self! Here are some great questions that can provoke interesting discussions on how each person thinks:
In order of importance, how would you rank happiness, money, freedom, love, and obligations?
How does a person become courageous?
When are old things better than new things?
What is more important: common sense or intelligence?
Would you rather have no rules to live by or the rules you have to live by now?
What three things would you change about the world?
Insist that each family member explains the stance they have taken and gives a reason for their chosen answers.
4. 'If…'questions
Here are some great conversation starters that can help everyone imagine different scenarios and also to think on their feet: 
If your house caught fire, what is the first thing you would save?
If you knew someone would get hurt if you kept their secret, would you keep it?
If you could fly or be invisible, which one would you choose?
If someone gifted you with something you already have, what would you do?
If you had all the time and resources you need, what kind of voluntary work would you like to do?
If you could rename yourself, what new name would you choose?
The best way to build strong-knit relationships is to get to know each other beyond the surface. Create long-lasting bonds by not only discovering what every person thinks, but also accepting and valuing each other's ideas and opinions. Such conversation starters can also be great tools for Muslim parents to discuss sensitive issues and to instil correct values through discussion and dialogue.
May Allah help us raise close-knit happy families who will reunite in Paradise. Ameen.
Ruhaifa Adil is a mother of four, a practising Muslimah, an avid reader, and a passionate writer. She works primarily as a trainer for mothers and teachers, advocating a multi sensorial, learner-centred approach, which she has learnt through her work as a remedial specialist for children with dyslexia. She is also an author of English textbooks, based on the teachings of the Qur'an (currently under editing), and creative director of a Tafseer app for kids (soon to be launched Insha'Allah).
© IIPH 2015
Related posts