By Zahra Anjum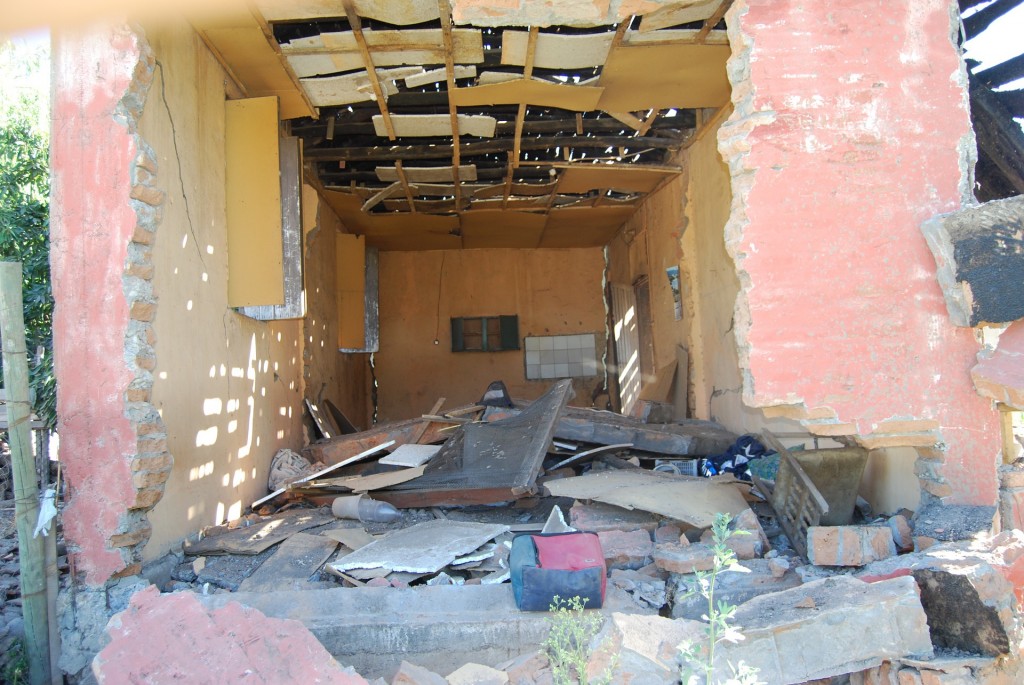 Bismillahir Rahmanir Raheem
It was a perfectly normal day, and everything was going according to the routine. We were chatting casually whilst having our lunch, when suddenly and without warning everything around us started to shake.
"It's an earthquake!" said my sister.
"Yes, it is." I replied, eyeing the swinging fan.
While muttering the Istighfar (phrases of repentance) under our breaths, we anticipated it would stop. However, the tremors continued and became stronger and intense. We were on the ground floor of a six storey building. The strange quivering sounds of the earthquake were now accompanied by the thud of footsteps. But it was the sound of falling debris that made us rush towards the building exit. It felt, at that precise moment, that the whole structure was about to collapse on our heads.
Everyone was safe, Alhumdulillah (all praises are for Allah), but the earthquake that day left a trail of lessons for me.
Subconsciously, we assume that we have a lot of time at hand and death is just meant for other people and not us. However, that sudden encounter with a trailer of death was enough to break these self-made assumptions; death will come unannounced and can come at any moment. It won't let us finish the meal we are having or the errands that are due.
In the days that followed, the thought of death lingered over me continuously. What if I die right here and right now? Am I really prepared? Or am I still far away from the pleasure of Allah and engaged in sins despite my knowledge of them?
Remembering death surely leads to a better connection with Allah and a better evaluation of where we stand. And I realized that I must not wait for another warning to start thinking about death and the afterlife more frequently, as recommended by Prophet Muhammad (sa) in the hadith: "Frequently remember the destroyer of pleasures, meaning death." (at-Tirmidhi, and an-Nasa'i; sound)

The earthquake also reminded me of the countless pictures of fallen structures and rubble in Syria, Palestine, Iraq, Afghanistan, and other parts of the world. I thought about all those living in constant fear as warplanes whirred above them. I had just spent some seconds in a situation that they encountered each day. Thoughts of the earthquake coming during the night would not let me sleep, and I am sure their nights are as insecure.
The earthquake also brought in front my eyes the case of the destroyed nations, the Aad and Thamud and many others who were destroyed through earthquakes and storms that they considered to be 'natural phenomena' only, whereas they were the wrath of Allah. Today also, many people sneer at the idea of earthquakes being a warning from Allah. They pay no heed to these clear warnings and the malpractices and immorality continues. Allah (swt) describes this in the Quran,
"And We have already sent [messengers] to nations before you, [O Muhammad]; then We seized them with poverty and hardship that perhaps they might humble themselves [to Us]. Then why, when Our punishment came to them, did they not humble themselves? But their hearts became hardened, and Satan made attractive to them that which they were doing. So when they forgot that by which they had been reminded, We opened to them the doors of every [good] thing until, when they rejoiced in that which they were given, We seized them suddenly, and they were [then] in despair." (Surah An'aam 6: 42-44)
On the contrary, Prophet Muhammad (sa) would start worrying when the winds grew strong, fearing they might be a sign of Allah's wrath. It was reported: "Whenever a strong wind blew, anxiety appeared on the face of the Prophet (sa) (fearing that the wind might be a sign of Allah's wrath)." (Bukhari)
The earthquake illustrated for me the Day of Judgement as described in Surah az-Zalzalah: "When the earth is shaken with its [final] earthquake. And the earth discharges its burdens." (Surah az-Zalzalah 99: 1-2)  It reminded me about the power of Allah, His might, His revenge, and the accountability before Him.
What to do?
Seek forgiveness
Apart from taking the necessary precautionary measures during an earthquake, the first and foremost action is to remember Allah, beg for His mercy and forgiveness, and repent. This should not be just momentarily and short-lived repentance; rather one should turn to a new life directed by the pleasure of Allah.
Allah (swt) tells us in the Quran: "But Allah would not punish them while you, [O Muhammad], are among them, and Allah would not punish them while they seek forgiveness." (Surah Anfal 8:33)
Enjoin good and forbid evil
We should endorse a culture of enjoining good and forbidding evil among ourselves because not doing so also causes Allah's punishment. Prophet Muhammad (sa) said: "By the One in Whose Hand is my soul! Either you command good and forbid evil, or Allah will soon send upon you a punishment from Him; then you will call upon Him, but He will not respond to you." (at-Tirmidhi; reliable)
This also includes raising our voice in front of those who oppress, by any means that we can. Prophet Muhammad (sa) warned us: "At a time when people see the oppressor and they do not take him by the hand, soon Allah shall envelope you in a punishment from him." (at-Tirmidhi; authentic)
Zahra Anjum is a freelance writer, editor and translator based in Islamabad, Pakistan
© IIPH 2016
Related posts