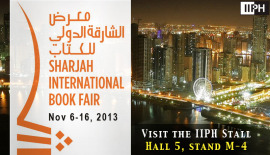 'Sharjah book fair attracts quality crowd'
RIYADH, Saudi Arabia — International Islamic Publishing House (IIPH) will showcase its latest titles at the Sharjah International Book Fair this year.
IIPH is a Riyadh-based company respected in the Muslim world for publishing Islamic knowledge in over 25 languages.
"We've been at the Sharjah book fair for years now. What we love about it is the quality of the visitors it attracts," said Muhammad Al-Tuwaijri, IIPH's Managing Director.
The IIPH's stall this year is at Stand M-4 in Hall 5.
"The UAE is a center where the East meets the West. You have over 200 nationalities living ​t​here. You cannot find such a platform anywhere else in the world."
IIPH was founded over 25 years ago and quickly became a leader in publishing Islamic books in English and several other languages.
"Islam is at the world's center stage. People want to know what Islam says about different topics, and they want to know it in their language," Al-Tuwaijri said.
"IIPH is trying to fill that need. Our books enjoy good readership because we address modern challenges and produce high quality in both content and form."
"And that's what people want," he added.
IIPH recently launched its new online store – iiph.com – that is optimized to offer a smooth online shopping experience on any device – computer, tablet or phone. Moreover, its shipping rates are arguably among the cheapest customers will find anywhere in the world. For example, orders up to 250g of weight cost less than AED5 for shipping anywhere within the GCC.
IIPH is also perhaps the only mainstream Islamic publisher that offers ebooks for the iPad and Kindle devices. Android versions are soon to follow.
© IIPH 2013
Related posts