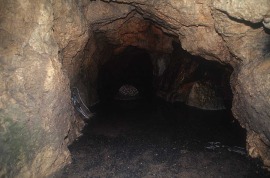 Photo courtesy of www.picture-newsletter.com
Ibn 'Umar (ra) reported that the Prophet (bpuh) said: «Three men went out for a walk. On the way, they were caught up in heavy rain. After they had sought shelter in a cave in a mountain, a huge rock fell down and blocked the entrance. Inside the cave, they said to one another: Let us call upon Allah with the best of our deeds.
One of them said: O Allah, I had two elderly parents. I used to set out, graze the herd, come back, milk the herd, bring the milk home and offer it to my parents first, and then let my children and wife drink. However, one evening I was held up and came back home late, finding my parents sound asleep. I hated to wake them, so I stayed up all night, with my children crying at my feet out of hunger – waiting for my parents to wake up by themselves. O Allah, if you know that I did this just to please You, please make the rock move a little so that we can see the sky. As a result, the rock miraculously moved a little.
The second man then said: O Allah, I had a cousin whom I loved more than any man would love a woman. When I asked her to let me have her, she said she would not let me do so without being given one hundred dinars (gold coins or units of currency). I worked, saved the money and went back to her. However, as I was about to have sexual intercourse with her, she said: Fear Allah and do not take my virginity but lawfully. I left her. O Allah, if You know that I did this just to please You, please make the rock move a bit further. As a result, two-thirds of the cave's entrance was revealed.
The third person then said: O Allah, I once had a servant whose wage came to twenty-four pounds of corn. When I gave it to him, he refused to take it and left. I then took this amount of corn, planted it and looked after it for him. As a result, it made money, with which I bought cows and hired a  herdsman to look after them. After some time, the servant came back and asked me to give him his wages. I said to him: Go and take all these cows and their herdsman. All of them are yours. The servant then asked: Are you making fun of me?
I said: No, I am not; they are yours. O Allah, if you know that I did this just to please you, please take the rock away from the entrance of the cave. As a result, the whole rock miraculously moved away from the entrance of the cave, and the three men left the cave, safe and sound.»
[Bukhari and Muslim]
© IIPH 2014
From Muhammad, the Messenger of Guidance by Dr. Ahmad M. Halimah
Related posts